Note:  We have no affiliation with Xanogen or HGH Factor.
Most guys come to this website looking to grow their size, and unfortunately, the vast majority are mislead about how you can REALLY do this.
This combination can be found after browsing several major adult websites, and you will see ads for it everywhere. It usually starts with a "blog" post from someone claiming that he met a friend, who knows a porn star, who took xanogen and hgh factor together, and grew 4 inches in a month. Does this sound familiar? I thought so. Well, lets look into the claims by both of these companies, and see if they can really live up to there claims.
What Exactly Does Xanogen Claim?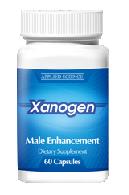 According to their website, Xanogen increases your penis size by using the ingredients to enhance the body's production of testosterone, and stimulate blood flow to the penis. For those who don't know, testosterone is the body's natural hormone that is directly related to sexual drive and stamina. Xanogen claims that regular usage has been clinically proven to boost testosterone levels.
There is no description as to how xanogen increases blood flow to the penis on their website.
We actually had a chance to try out Xanogen separately from HGH Factor, and you can either learn more in our official xanogen review.
What Does HGH Factor Have To Say?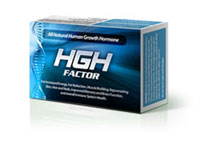 HGH factor does not appear to have anything to do with male enhancement. According to their website, the product is said to increase levels of HGH (human growth hormone) in the anterior pituitary gland and stimulates the release of hgh into the bloodstream.
What does this have to do with male enhancement?  We searched the internet for some evidence that hgh will
help grow your penis.  According to Wikipedia, hgh is used to treat a variety of ailments, including aging, multiple sclerosis, and as a bodybuilding supplement.  It also is said to increase the natural production of testosterone in the body, which is said to increase your sexual libido.
According to the makers of hgh factor, they also list "enhanced sexual drive" as one of the product benefits.  While these claims may be disputed, there is no credible evidence or studies which conclude it does not.
Fake Blogs (Flogs) and "Jenny's Diary"…
So, as I mentioned earlier, you probably came across this combination while browsing on the internet for porn.  Don't be ashamed, we all do it (some more then others I guess 🙂
Did you see an ad that said something like "Learn How My Boyfriend Grew His Penis 2.7 inches in 3 weeks"??  I think any guy that sees something like this will immediately have his curiosity peaked, and will likely click on the ad.
Well, if you did (like me), you likely were led to a page that looks like this: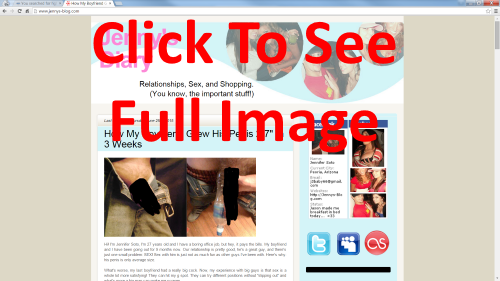 It's a story written by what appears to be a "college coed" girl, talking about how she ordered Xanogen and HGH Factor for her boyfriend, and the results were nothing short of amazing.  Apparently, he gained close to 3 inches in length from using this combination, and now she has to practically beat other girls away with a stick from sucking his new-found large rod.
What she doesn't tell you is it is complete, and utter bullshit.  Let me explain…
This, my friends, is called Jenny's Diary…it's a common tactic marketers have been using for years, and you'll see ads like this on all sorts of porn sites.
It always starts with the same premise…some young hot chick named Jenny is pissed off that her boyfriend is "too small" down there, and starts researching on the internet for options to help him get bigger.
She stumbles across some miracle combination of supplements that promises to give you INSANE GAINS in size.  Sometimes it Xanogen and HGH Factor, but sometimes it's other combinations.  Those other combos include Testoforce and Xength X1, Alpha Fuel XT and Orvigomax, and a wide range of other ones.
She buys the supplements, convinces him to take them (with alot of convincing to do on her part), and MAGICALLY within 30 days his penis grows 3 inches.  There's tons of comments from other dudes who've apparently taken the combo with similar results, some of them are even posting their before and after photo's.
And the best part about it, they're FREE!!
Well, not really FREE, but we'll get to that in a minute.  Within "Jenny's Blog" she chronicles EXACTLY how her boyfriend took the pills, which typically is 1 pill of both Xanogen and HGH Factor per day.
She even show's a before and after picture of his junk, using a water bottle of all things to measure the HUGE increase in size.
Not only that, but she shows you how you too can get your free bottles of these supplements, using some unique "promo code" she found on the internet.  All you have to do is pay for the shipping.
And, thus starts the beginning of the scam…
So What's The Big Deal?
Well, there's a few things that you probably missed when reading this blog.
1.)  Fake Facebook Profile
To me, it looks like the Facebook profile of "Jennifer Soto" is completely fake…As most can attest, girls like this generally don't spend more then 45 min. checking / posting on Facebook about what they had for lunch, what they did in the gym, or some other random fact that most of us could care less about.
Well, the last time Jenny posted was in 2010, which I find very hard to believe.  Maybe she opened a new account, but i highly doubt it.
2.)  Try To Leave A Comment On The Blog
You can't…there's tons of comments and replies from Jennifer, but everytime you try to leave a comment it magically disappears, and is never to be seen from again.
3.)  The "Free" Samples
All that other s$%t aside, who cares, right??  The stuff is free….Well, no it actually ISN'T free.  Let me explain…
When you go to the Xanogen and HGH Factor official sites to "claim" your free trial, you're prompted to enter in your credit card details to pay for the shipping.  The fee is a modest $4.95 or so for each, and it sounds like a really good deal at first.
HOWEVER, what you probably missed was the fine print…
It says this for Xanogen:  "Start your trial today and pay only $4.95 for shipping and handling. You will receive a full size bottle of Xanogen. After 15 days, you will be billed $79.95 – a huge savings over the retail price of $89.95. If Xanogen is not right for you, simply call 1-800-528-6565 by July 12, 2015 and return the unused portion. (Shipping is not refundable.)
You will continue to get a fresh supply of Xanogen every 30 days for the low price of $79.95 (plus shipping)! You can modify or cancel your subscription anytime by calling 1-800-528-6565."
and this for HGH Factor: "Start your 18 day trial now and you will receive a full-size box of HGH Factor (a 30-day supply with a retail price of $99.95). Your 18 day trial period begins three days after you place your order. During your 18 day trial period, you can evaluate this amazing product and see the results for yourself.
If you love HGH Factor as much as we do, simply do nothing and at the end of your trial period, you will be charged the super low price of $79.88 – a big savings! If, for any reason, you decide that HGH Factor is not right for you, simply call 1-800-587-0888 before the end of your trial.
When you accept this trial offer you will also receive membership into the HGH Factor Healthy Rewards Program. Beginning 30 days after your trial starts and continuing every 30 days thereafter you will get a fresh supply of HGH Factor at the same generous discount price of $79.88 (plus shipping)! You may quickly and easily modify or cancel your membership any time by calling 1-800-587-0888."
That's right guys…it's not ACTUALLY free.  It's a free TRIAL, which basically means you have a certain period of time to use it and then, BOOOM, your credit card is billed the full amount.
Reviews From Men Who Have Taken HGH Factor and Xanogen
There are no known published reviews of these products on the internet.  The question was posed on a number of websites, but no-one came forward with any specific experiences using this particular combination of supplements.
Letter We Wrote To Xanogen and HGH Factor Manufacturers:
"To Whom it May Concern,
I have been reading several blogs on the internet that say if you take Xanogen with a product called HGH Factor, that you will gain 4 inches in size in a month. Is this true? Can you back these claims up?
Thank you."
Still waiting on a response from Xanogen and HGH Factor.
How Do I Cancel / Return Them?
Here's the cancellation information for both (step-by-step, easy instructions):
Xanogen – Call 1-800-528-6565 and tell them you want to cancel.  You will have to send back the unused portion, so don't throw it away!
When you call, they will issue you an RMA number, which you will need to write on the outside of the box you send it back in.
Make sure you add delivery confirmation and tracking to the order, so they can't give you the run around and tell you they never received it.
HGH Factor – Call 1-800-587-0888 and tell them you want to cancel.
You will have to send back the unused portion, so don't throw it away!
When you call, they will issue you an RMA number, which you will need to write on the outside of the box you send it back in.
Make sure you add delivery confirmation and tracking to the order, so they can't give you the run around and tell you they never received it.
Can I Get A Refund?
You'll have to call them and ask, although I would say it's unlikely they will issue you a refund if it's outside of their cancellation policy window.
Conclusion
There is no conclusive evidence that taking both xanogen and hgh factor combined will help to increase your penis size by up to 4 inches in a month.  This is not to say that each product does not work independently, or make any inference that they do not work, it just means we could not find any positive reviews from anyone online.
But the fact that they resort to cleary trying to deceive guys into thinking they are getting a free sample of the supplements, when indeed their not, leaves me with only one logical conclusion.  They…don't…work…
Male enhancement is no laughing matter, and the better informed you are, the more successful you will be in your quest to satisfy your partner.  We have reviewed dozens of penile enlargement products, and have found 3 very
potent supplements you can take to help increase your size and stamina.
Looking For A Bigger Penis?

Click Here To See My Top Choice