Spartagen XT Review
It is a sad fact that, as we age, men go through a process called andropause, during which testosterone levels drop. Along with this hormonal change, many men experience a decrease in energy, reduced sex drive and increase in body fat. There are many supplements on the market, however, that claim to provide a natural, safe solution to andropause. Among them is Spartagen XT, produced by Edge Bioactives.
Boasting a variety of vitamins, minerals and herbs, Spartagen XT claims that it can increase levels of free, bioavailable testosterone which would increase energy and sex drive while improving body composition. Let's take a look at the ingredients to see if it has the potential to live up to these claims.
Ingredients in Spartagen XT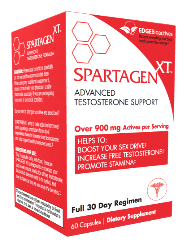 Although the official website discusses only a few of the ingredients found in Spartagen XT – which is a little strange – the label tells a slightly different story. All told, the supplement contains:
Vitamin D – Produced by your skin when exposed to adequate sunlight and available in some foods, vitamin D plays a huge role in keeping you healthy. Of specific interest here is the ability of the vitamin to increase testosterone levels and improve mood. There's also some research to suggest that vitamin D can decrease body fat and increase muscle mass.
Vitamin E – Frankly, we see no reason for vitamin E to be in this formula. There have been theories that it could improve sexual health but no studies have backed this up. That being said, it's incredibly good for you and won't do you any harm.
Vitamin B6 – The company suggests that, because of it's role in nerve conduction, vitamin B6 can help to increase sexual arousal – there's even a footnote suggesting a study. Unfortunately, the note does not go anywhere and we could not find the suggested study. However, it is true that B6 improves nerve impulses, so this particular benefit is possible, if unproven.
Magnesium – Even the manufacturer recognizes that magnesium has no role in sexual health, stating that it is included because it is "essential for a healthy cardiovascular system." Which is true. It is also true to proper circulation is important for sexual health.
Zinc – This mineral is a proven aphrodisiac and has been shown to increase testosterone levels in men who have a deficiency. However, zinc doesn't appear to effective normal testosterone levels.
Tongkat Ali – Also called longjack, this herb has a long history of use as an aphrodisiac. Although there is no evidence that it can raise testosterone levels, tongkat ali does seem to work when it comes to increasing sex drive and slowing the effects of andropause.
Tribulus – This herb does seem to increase testosterone when there is a deficiency, but has no effect otherwise. Still, there is evidence that tribulus can improve sexual health. It should be noted that these benefits come from specific saponins found in the plant and that Spartagen XT is standardized to contain a proper dose.
Asian Ginseng – Like many of the herbs included in this supplement, ginseng has been shown to increase testosterone when there is a deficiency. Regardless of testosterone levels, the herb does appear to improve erection quality and sex drive. There's also some evidence that ginseng can improve mood and enhance mental clarity.
Maca – A relative of broccoli, this herb has a long history of use as an aphrodisiac. Although maca does not influence testosterone levels, it does seem to improve sexual function and sperm production.
Butea Superba – This herb is pretty interesting. Traditional Thai medicine uses butea superba as an aphrodisiac and male enhancement but the modern research is mixed. It does appear to improve erection quality and sexual health. It even seems to have the ability to increase testosterone. Frustratingly, it also appears to lower testosterone levels in your body as part of a negative feedback loop. Of course, this would not necessarily be a concern for men who already have decreased testosterone production.
Chrysin – This compound, found in bee pollen, has been shown to increase testosterone – when it's injection directly into the testicles. Otherwise, it is not absorbed at all.
There are definitely some promising ingredients in here. Unfortunately, they are included in a proprietary blend so we have no way of knowing the exact dosages. While most of the ingredients are fairly harmless, it's concerning to not know how much butea superba could be contained in Spartagen XT since that particular herb can have serious side effects.
Overall Impression of Spartagen XT

There are two strange things that stand out when searching for Spartagen XT online. First, it seems to be fairly hard to find. The only merchant selling it on Amazon was sold out at the time of this writing and there were only two reviews. One was a 5-star that did not seem entirely trustworthy and the other was a 1-star that made no sense.
For the most part, though, comments on many blogs and customer reviews sites are largely positive. The primary complaint is the cost – which we'll get to – and there were no reports of side effects. As far as the negative reviews, it is important to note that many of the ingredients in this product have not been shown to work in men with healthy testosterone levels. In fact, the manufacturer markets this product to men who are undergoing andropause.
Second, the company website is off-putting and provides no upfront information about price. Instead, the site demands that you input personal information like your name, age and reason for interest to "see if you qualify for a 51% discount." Other sources state that a 1-month supply costs $69. While this does not necessarily mean anything, it does not create a pleasant or comfortable user experience.
All in all, the formula for this product seems promising – if the ingredients exist in suitable dosages. It is also a plus that the factory is an FDA registered facility, since many male enhancement supplements contain undisclosed prescription medications. However, the product is pretty pricey and comparable products are out there that cost much less. In the end, the cost makes us say that you might want to look