Editor's Rating: 1.5
I check out A LOT of supplements, so as you can probably imagine, my news and social media feeds are filled with advertisements for new products targeted to guys like me – you know – a primed and ready audience. I'll admit it gets a touch annoying at times, but mostly it lets me know I have a good sense of what's new, what's trending, and what needs looking into.
Well, about a week ago, I started seeing a product called TestX Core popping up pretty regularly. First it was an "ESPN article" (aka phony ad) claiming that Tom Brady was in hot water over using this incredible new supplement, then it was a sponsored post on my Instagram feed. I clicked on the ad to check it out real quick. It wasn't a good time to dive in, so I told myself I'd come back and investigate later. Of course, before I got around to it, I got an email from Amazon.com recommending it based on my browsing history.
Okay okay, obviously the universe was telling me it's time to check this stuff out and write a review. And here we are.
What Gives with the Phony Article?
I'll start by talking just a little bit about that phony ESPN article. Only a little because by the time I got around to checking it out for real, it was gone. It happens all the time. These ads posing as legit articles are so scammy, products know better than to leave them running for very long. They claim celebrities use the products when really they've never even heard of them, and if they did they'd send cease and desist letters.
On top of that, they pretend to be running on ESPN's website but a quick look at the URL shows that this is not the case.
As I said, I couldn't find the article itself, but I did happen upon a screen shot demonstrating what I'm trying to convey: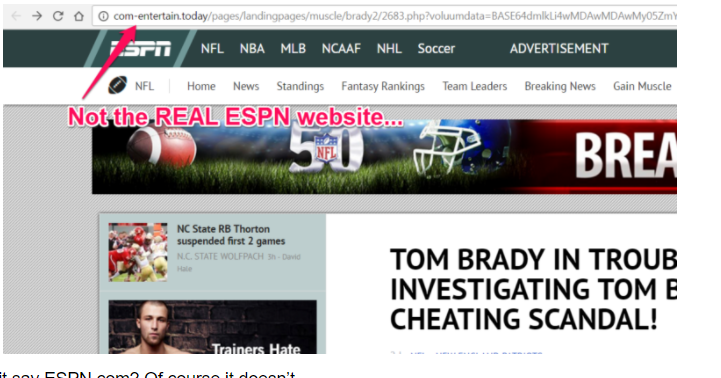 Clearly, that's not the ESPN website.
I could pick apart the article in great detail, but we have a lot to cover regarding TestX Core itself so we'll move on.
What Is TestX Core?
TestX Core is a natural testosterone boosting supplement made by a company called Phenom Health. It claims to work by boosting levels of free testosterone. It's marketed to guys who've begun to notice the effects of the inevitable sex hormone decline that happens when we start to get older.
Things like:
Shrinking muscle mass.
Increased fat ratio in body composition.
Lessening of interest and performance ability in regards to sex.
Weakening bones.
Irritation.
Lack of motivation.
We all get older and that fact can be difficult to swallow. And that's why you'd choose to take something like TestX Core. Of course, TestX Core is one of dozens, if not hundreds, of natural testosterone boosters. Is there really anything special about this one?
TestX Core Ingredients
Luckily, unlike so many of its competitors, TestX Core does reveal the ingredients it uses to make up its formula. They include:
Saw Palmetto which can help improve prostate help by blocking the conversion of Testosterone to DHT. While DHT is necessary to a degree, too much has been blamed for symptoms of enlarged prostate as well as hair loss.
Panax Ginseng Root which can boost energy levels and may play a part in increasing testosterone.
Tongkat Ali which may increase levels of free testosterone by blocking the activity of Sex Hormone Binding Globulin. SHBG attaches itself to free testosterone molecules, making them basically useless. By blocking this, Tongkat Ali helps ensure you have more useful free testosterone.
Fenugreek which has been shown to improve athletic performance, even though studies regarding Fenugreek and Testosterone have not yielded reliable evidence.
Lycopene which acts as an antioxidant to protect the cells of your body from oxidative damage.
L-Arginine which acts as a pre cursor to nitric oxide, a vasodilator that opens up blood vessels, allowing more blood to flow through. This improves workouts by delivering more oxygen and nutrients to your muscles and improves erections by sending more blood to the penis making it harder.
Tribulus Terrestris which may increase your body's testosterone levels by increasing the release of Luteinizing Hormone which then tells the testes to release more testosterone.
L-Taurine which provides long lasting energy to your body overall and your muscle in particular.
Boron which has been shown in some studies to increase testosterone.
Astaxanthin which increases stamina and improves post workout recovery.
Zinc and Magnesium which are both crucial to the chemical reactions that make the body tick, including those responsible for the production of natural testosterone.
Vitamin B6 which provides long lasting energy with no crash.
A quick look over the list tells us that there are several commonly used natural testosterone boosting components as well as some herbals with the ability to improve athletic and/or sexual performance. The result should be some noticeable improvement in those areas.
The one issue I would make note of however is that most of the ingredients are found in a proprietary blend, so it's impossible to know how much of each ingredient they use. This is too bad because this kind of information is essential if you're trying to decide whether to jump in or pass it by.
How To Use It
The instructions say to take 2 capsules daily, 30 minutes before you work out.
Who Is Phenom Health?

TestX Core is made by a company called Phenom Health from Denver, who makes and distributes several supplements in the health, workout, weight loss, and brain boosting categories. You may have seen some of their products:
NO Max Shred
IQ Elite
Synagen IQ
Garcinia Lean Xtreme
And there are several more. Most, if not all, of their products are or have been sold using the "free trial offer" scam that you've seen mentioned on this site before. As a result, we did find some complaints at RipoffReport.com and the company has a rating of F at the Better Business Bureau with 36 complaints and counting.
In fact, the Better Business Bureau actually notes that there is a specific pattern of complaints about this company:

I don't know about you, but I don't think it seems like a very good idea to get involved with a company like that.
Where to Buy TestX Core
TestX Core has a website where you can sign up for the "Free Trial" offer. You'd never know it unless you searched hard through the website for the actual terms of the deal, but here's what you'd be signing up for:

That print is a little small, so let me spell it out for you. You think you're trying something free but for the price of shipping, giving you chance to decide if you'd like to continue using it, but that couldn't be further from the case. What's really going on – without need of your explicit knowledge – is that you're signing up to AUTOMATICALLY receive monthly shipments and to be billed $89.41 for these shipments each month, including $89.41 for the bottle you thought you were getting for free.
TestX Core and Phenom Health aren't the only scammers playing this expensive game. It's all over the place. But they are definitely playing a came, and it's with a deck that's stacked against you.
Buy It On Amazon
Good news! (Sort of). If you still want to try TestX Core, but you don't want to touch the free trial with a 10 foot pole, you can order the stuff at Amazon.com under straight sale terms. A single one-time purchase costs $71.50, and shipping is free with Amazon Prime.
But hold on just a minute because the fact that it's sold on Amazon has shed light on a few more pieces of useful information. The first is Amazon Reviews.
TestX Core Reviews
Take a look:

I honestly don't remember if I've seen a review breakdown this negative before, certainly not one with as many as 37 total reviews. 65% of the reviews are negative.
The comments are mostly pretty brief, just saying things like "not worth it," "what a joke," and "Seems to have been a waste of money… no change at all".
The thing about reviews that you have to remember is that not everyone has the same experience, so you have to look for trends. The trend for TestX Core is clear. It doesn't work.
Different Ingredient List
I mentioned that there were a couple things of note brought to light by the fact that it's sold on Amazon. One was reviews, the other is the ingredient list. Amazon posts a few different views of the TestX Core packaging, one of which shows the ingredient label: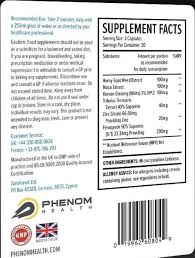 If you look closely, you'll see the list is completely different from what we stated above. To be clear, we got our list from the TestX Core website and the one just above came from Amazon.com. And to make matters even murkier, we know it's not counterfeit product because the TestX Core website has a link to the product being sold on Amazon.
So it remains a mystery. Are there two different products? Are they both made by Phenom Health? Do either of them work? Does anybody care?
TestX Core – The Bottom Line
That last question is meant as a joke, but only sort of. Whether TestX Core using formula A or formula B, it doesn't really much matter. Neither one is a game changer. Neither one is worth $72 once or $90 a month. Neither one is made by a company with a solid reputation for making quality supplements and selling them for a fair price.
The fact is, whichever formula is the real one, Phenom Health is in the business of ripping people off by selling overpriced supplements and trapping unsuspecting customers into monthly billings they never had any intention of participating in. They do it time and time again. This time, it's with TestX Core. Hopefully, I've caught you before you signed up. If not, call them at 1-855-322-8780 ASAP in the hopes of calling off the scam before it's too late.