Neurocore Overview
Dave's Rating: 

There's a new craze in bodybuilding supplements.  After years of proprietary formulas, companies are wearing like a badge of honor that they disclose their full ingredients list, right down to how much of each compound is included.  This is a good thing. Nobody keeps track of what goes into their bodies like hardcore athletes, so it was only a matter of time before they refused to buy into the  "secret formula" gimmick anymore.
MuscleTech makes Neurocore for pre-workouts, and they do fully disclose, which isn't to say they don't also hype up their product.  In fact, they call it "The Most Powerful Pre-Workout Ever.  Guarantee."  So let's get right into it and see if this bad boy lives up to its hype.
Neurocore Ingredients
Right off the bat, things get a little confusion.  On the one hand, the labels calls 1 rounded scoop a single serving.  But all the marketing talk about ideal amounts of stuff refers to the max allowed dose of 3 scoops (3 servings).  So I guess the point is that 3 servings at a time will give you the optimal doses of each ingredient: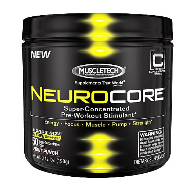 3.2 grams Beta Alanine.  This is the exact amount found in scientific studies to be effective for enhancing muscle endurance.
3 grams Creatine HCL.  This is the best absorbing form of creatine available, so you don't get the water retention that usually comes with it.
360 mg Caffeine.  That's a lot of energy.
3 grams L-Citulline.  This replaces L-Arginine because it's been shown to lead to more nitric oxide and better pumps.
150 mg L-Theanine for enhanced focus.
75 mg Yohimbe Extract for supplying Yohimbe and Rauwolscine which are Alpha-2 inhibitors which help you get to better blood flow and better pumps.
How Neurocore Works
The recommended dose on the label is 1 scoop in 4 ounces of water.  If you take this dose, you'll get a third the amount of ingredients listed above.  The 1 scoop dose is what they recommend you start with.  You're supposed to move up gradually to 3 scoops in 12 ounce of water as your regular dose.  Then you'll get the advertised "optimal" levels of ingredients.
Benefits of Neurocore
If you take the full 3 scoop dose, you're getting scientifically tested levels of beta alanine and creatine.
This stuff will give you loads of energy.
All ingredients are fully disclosed.
Drawbacks of Neurocore
The confusion over how much you should take leads to several conflicting options. If you take 1 scoop, you're not getting the beta alanine and creatine you signed on for.  If you take the 3 scoops, you're getting potentially too much caffeine and yohimbe, and your tub will only last 2 weeks if you're lucky.
According to the Neurocore reviews we saw, this stuff tastes like a$$.
MuscleTech doesn't have the best reputation with guys who've used their products over the years.
Long term use of Yohimbe is recommended against by the FDA because of the potential for dangerous side effects.
Where to Buy Neurocore
You can get Neurocore online at bodybuilding.com or in GNC stores.  The 45 scoop tub goes for $29.95 at bodybuilding.com.  The flavors available are Fruit Punch, Blue Raspberry, and Grape.  From what I hear, stay away from the Fruit Punch.
The Final Word
It's kind of like MuscleTech is getting better with Neurocore, but they're only half way there.  Disclosing the ingredients is great, but needed 3 servings to reach the optimal dose is just annoying. Neurocore reviews are pretty mixed.  Enough guys seem to like it that it's probably worth giving it a shot.
Leave Your Review of 

Neurocore

 Below!