AI Sports Nutrition Perform Overview
Editor's Rating: 
It's not all that unusual for a sports nutrition company that specializes in bodybuilding supplements to venture over into the male enhancement arena with a product or two.  Sometimes it's a hit because the company has the framework in place to research and develop quality products of all kinds.  Sometimes it misses because their focus is too far removed from the purpose at hand.  Recently, I had a reader ask
me to look into one of these products for him.  It's called AI Sports Nutrition Perform.
What Is AI Sports Nutrition Perform?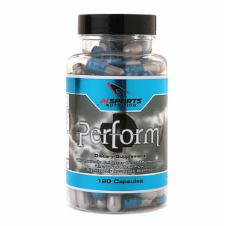 AI Sports Nutrition Perform is the only product from AI Sports with a pure focus on male sexual performance enhancement.  They have testosterone boosters, which certainly do help in the romantic arena, but they have a primary focus of muscle building with the libido boost as an added bonus.  AI Sports Nutrition Perform is specifically and solely purposed with the task of making you experience in the bedroom (and hers) better than you thought possible.
While others promise the kitchen sink, AI Sports Nutrition Perform promises that you will perform at your best in the bedroom, with an increase in libido, thick and hard erections, stamina to go all night, and explosive orgasms for both of you in the end.  So let's take a look at the AI Sports Nutrition Perform formula to see if there's proof in this pudding.
AI Sports Nutrition Perform Ingredients
AI Sports Nutrition calls it their Maximum Thrust Proprietary Complex, and it consists of:
Maca for a sharp increase in libido.  Maca is an ancient aphrodisiac found in the mountains of Peru.  It is known to boost your sex drive, lift your energy, and increase the production of semen.  An increase in semen production produces more contractions during orgasms, which makes them more intense.
Tribulus Terrestris from Bulgaria (which is the strongest strain) boosts testosterone levels by increasing the secretion of Luteinizing Hormone from the pituitary gland.  More LH signals the testes to produce more testosterone.  When your testosterone levels are raised, one of the effects is an improvement in sexual performance covering both libido and erections.
Epimedium is a PDE-5 inhibitor much like Viagra.  It increases blood flow to the penis during erections and prevents the flow of blood back out again.  This way, your erections last longer.
Eurycoma Longifolia is used to free testosterone that's been bound up with Sex Hormone Binding Globulin (SHBG).  This bound testosterone can't be used by the body, so by freeing it, Eurycoma Longifolia (aka Tongkat Ali) makes it available for use by the body, increasing libido and improving performance.
How To Use AI Sports Nutrition Perform
You can actually use AI Sports Nutrition Perform in a couple of different ways.  The primary option is to take it daily.  This means 2 AI Sports Nutrition Perform capsules in the morning and 2 again at night.  You can take it either with food or without.  The secondary method is to take 4 capsules all at once, about half and hour before sexual activity.  It is strongly recommended that you don't take more than 4 capsules in a 24 hour period, so you'll want to choose your method (daily or fast acting) and stick with it so you can create a viable schedule.
If you do take it every day, it is recommended that you cycle off for about 4 weeks after 8 straight weeks of use. That way, you won't build a tolerance.
Where to Buy AI Sports Nutrition Perform
AI Sports has a website where you can purchase AI Sports Nutrition Perform.  A bottle containing 120 capsules is good for a 1 month supply.  At the website, it costs $34.99 and is covered by a 45 day money back guarantee.  AI Sports Nutrition Perform is also available through other online retailers (Amazon and Bodybuilding.com) and in stores (Walgreens and Target). The cheapest place we've seen it online AllStarHealth at $20.  If you buy through a retailer other than AI Sports Nutrition, you'll have to take up any money back guarantee issues with them directly.
AI Sports Nutrition Perform Reviews
It's not too often that you find so many positive independent reviews for a male enhancement supplement, but that is definitely the case with AI Sports Nutrition Perform.  Here are just a few examples:
Ricky says: "Wow!!! Decided to purchase this item after reading the reviews. I must say, it does what it says.  Just take two pills am/pm, will start seeing results within 2-3 days, very good results."
J. says: "They named this supplement correctly. It PERFORMS."
Garth Says: "This stuff is AMAZING!  I have used this stuff for about 8 months now and it has lived up to its name all the way.  Not only in the private areas of my life but with everyday brain functions and all out performance."
Of course, it hasn't worked for everyone.  Here's an example representing the sentiments of the far less common negative reviews:
Himanshu says: "Not good!  Don't waste your money.  Tried for almost 3 weeks, nothing actually worked with the pills.  Did not gain single pound of muscle, and not so god with other activities too.  Make me feel tired after taking it."
I didn't chart it out, but my rough estimation is that the positive AI Sports Nutrition Perform reviews outweigh the negatives by about 4 or 5 to 1.  That's a really good record for a product of this kind.
AI Sports Nutrition Perform – Our Recommendation
There are a lot of good things about AI Sports Nutrition Perform.  The formula is good (though I would prefer to see some L-Arginine), the price is decent, the reviews are very good.  Here's what I would suggest.  Order a bottle from the AI Sports Nutrition website.  That way, if you don't like it, you're covered by the money back guarantee.  If you do turn out to like it and want to order it again, either pick on up at a local store for convenience, or search online for the lowest price, saving yourself quite a bit of money.
Leave Your Review of   AI Sports Nutrition Perform Review Below