Ejaculoid Overview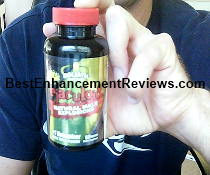 In addition to many male enhancement supplements, a growing trend is emerging in semen and sperm enhancement. Thought to be the perfect complement to libido enhancer's, one such male fertility product is called Ejaculoid. This supplement is manufactured by a company called Goliath Labs, which produces a full line of men's health products. We decided to review this product to reveal its claims of effectiveness, as well as learn more about user experiences and results using Ejaculoid. Our review includes detailed information about the ingredients, any potential side effects, as well as a detailed analysis of the differences between Ejaculoid XXtreme and Ejaculoid.
Detailed Review of Ejaculoid
According to the product website, this supplement is a powerful blend of 5 ingredients which is used to boost the production of semen by up to 500%. It is apparently doctor approved, but we could not find any information on clinical studies or doctor testimonials.
It is made up of a blend of raw ingredients, including maca, tribulus terrestris, Epimedium, Yohimbe, Gaba, and cynidium monnier extract. It should be noted that Yohimbe is a very dangerous extract in this product, and you should seek the advice of medical professionals before taking it. Many users have reported side effects, and men that are being treated for hypertension, diabetes, heart, liver, or kidney disease, should avoid taking any products that contain yohimbe.
Reviews of Ejaculoid
There are several reviews of ejaculoid on amazon, and there seems to be a split decision on this product. Some reviewers say that it worked to help enlighten their mood, some said that it worked to increase their semen, and others said it flat out did not work.
"I've been using ejaculoid for about 3 months now, and I do notice a slight increase in the power of my erections. As far as side effects, every once in awhile i get a little overly hyper, which is not really good for me because i am already hyper. It doesn't have caffeine in it so i don't think its that. Not sure, but this stuff has worked for me pretty good." James, OH
Ejaculoid Vs. Ejaculoid XXtreme
Ejaculoid XXtreme is no longer available because of a recall. However, the ingredients contained in the "XXtreme" version were the following:
Oyster Extract
White Willow Salix Alba
Lycium Barbarum
Bombyx Mori Extract
White Willow Extract
This product was discontinued due to an FDA analysis which found it contained sildenafil as well, which is a pharmaceutical drug.
The current ingredients in Ejaculoid are the following:
Maca Powder Extract
Tribulus Terrestris
JuJube
Horny Goat Weed
Xanothoparmelia Scarbosa
Longjack Powder
Cnidium Monnier
As you can see there are a number of differences between ejaculoid and ejaculoid xxtreme. We could not tell if anyone had better effects using the latter version as of this review.
User Reviews
Below are the results of a questionaire we sent out to our visitors:
"As for whether or not I recommend Ejaculoid- absolutely!  Very few male enhancement supplements can back up even their most basic claims, yet this one seemed to live up to every claim made on the label and the company website.  All of the ingredients in the product are natural and herbal, and when used in conjunction with one another, they produce absolutely remarkable results.  If you are looking for thicker semen, more stamina, or just a better and more powerful erection, I have to say that Ejaculoid is, in my experience, the best male enhancement supplement on the market
today."
Ted, Indiana
Our Own Personal Review of Ejaculoid
Pro's
Increases Semen Production by up to 600%.
Supposed to increase sexual desire and libido
Fast acting, works in about 30-60 minutes of taking
Con's
No Published clinical reviews
No Doctor Testimonials
Contains Yohimbe
Overall Conclusion
There are a number of semen enhancer's on the market that are very similar to this one. We can't see any reasons why this particular supplement would be any better than some of the other leading brands out there. Due to the reviews posted about this product, it appears that individual results may vary substantially. Also, ejaculoid contains Yohimbe, which as we stated earlier can be a very dangerous extract. We suggest you definitely speak with a physician before starting this program.
Leave Your Review of Ejaculoid Below!