Hyper Fuel 9X Overview
Every guy who's ever wanted to lose weight or get ripped knows that sometimes eating right and working out just doesn't cut it on its own.  And that's where supplements come in.  There are diet aids, pre-workout supplements, post-workout supplements, protein shakes, and all-in-ones.  And there are hundreds of each.  So what do you choose?
According to its official website, you should choose Hyper Fuel 9X if you want the following benefits:
More endurance so you can work out longer and therefore get better results.
Increased blood flow to deliver more oxygen and nutrients to build bigger muscles.
Shorter muscle recovery time after those tough workouts.
Greater fat burning efficiency and prevention of the formation of new fat cells.
All resulting in your ripped and muscular body within weeks.  (Oh and by the way, it helps you get better erections too!)
 

The Results Are In!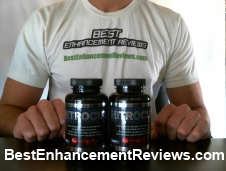 I successfully tested out a pre workout supplement called Nitrocut with Awesome Results.
How Hyper Fuel 9X Works
The primary mechanism of action for Hyper Fuel 9X is a boost in nitric oxide, which puts it into the pre-workout supplement category.  Certain amino acids help along the production of nitric oxide in the body.  Nitric oxide relaxes the smooth muscle walls of your blood vessels.  This allows for better blood flow, which brings more oxygen and nutrients to the muscles, which improves recovery time and lean muscle generation.  More blood to the muscles is also what gives you those pumps when you're working out.  (And it gives you better erections because the more blood you have flowing to your genitals, the thicker and harder your erection will be).
Hyper Fuel 9X Ingredients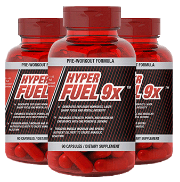 All the ingredients are listed on the Hyper Fuel 9X website.  The formula includes:
Taurine and Arginine Alpha-Ketoglutarate which are both amino acids that contribute to the body's natural production of nitric oxide.
Beta Alanine that provides muscle strength and endurance so you can work out harder and longer.
Caffeine for energy.
The recommended dose is 3 capsules taken shortly before a workout, though precise timing is not discussed on the website.
Where to Buy
Hyper Fuel 9X is offered on a "free trial" basis, but I warn you to take that term with a grain of salt.  You pay only shipping when you order a month's supply.  But if you don't cancel within 14 days of your order date, you will be charged $87.47 for your "free" bottle, and you'll be enrolled in their membership program where you'll receive a new bottle each month for the same price.
This is called a "negative option" structure because you are automatically opted in unless you specifically opt out.  This would be fine (sort of) if it were made very clear and if you were given plenty of time to decide, but neither of those is the case.  The details are in the fine print, and you're given all of 14 days from order date to decide.  Assuming it takes a week for delivery, that gives you a week to try a supplement.  In my opinion, that's not enough time to make a proper decision.
You'll also find heavy marketing on social media sites like facebook and twitter, saying that if you combine Hyper Fuel 9x with other pre workout formulas like optimal stack, 1285 muscle, and muscle factor x that you will get insane results.  Don't buy into the BS, it won't do what they say it will.
Benefits of Hyper Fuel 9X
·         It contains amino acids and beta alanine.
Drawbacks of Hyper Fuel 9X
There are no Hyper Fuel 9X reviews available from guys who've used it.
The free trial offer is deceptive and difficult.
There's no other way to buy or try Hyper Fuel 9X.
It's very expensive.
The formula is proprietary so you have no idea if the ingredients are used at an effective level.
Recommendation
The drawbacks very clearly outweigh the benefits when it comes to Hyper Fuel 9X.  We recommend that you find something with a more proven track record and/or a solid money back guarantee.
Leave Your Review of Hyper Fuel 9X Review Below