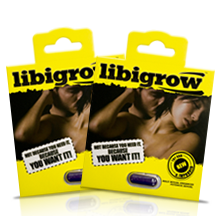 Editor Rating

Rated 3 stars

Good
---
Libigrow

Reviewed by:

Published on:

Last modified:
---
Libigrow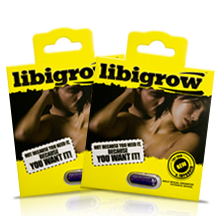 We come across a wide variety of male enhancement products during our research, and many of them are geared towards men. One such company, called Libigrow, designed and development a sexual enhancement formula for both men and women. While they are 2 separate products, they are both made to help you increase your sexual desires, as well as make sex better than ever. Let's take a look at the ingredients, side effects, reviews and testimonials from real customers, and learn more about this all natural product.
1. So What Exactly is Libigrow?
Libigrow and Libigirl are both products manufactured by a company called True3beauty, which sells their product in both pill and liquid form. It is made up of a proprietary blend of ingredients including chinese dodder, cnidium monnier, kordyceps, ginseng, and walnut.
Libigrow is sold in packages of 3, and is designed to be taken up to 1 hour before sex. According to the website, there have been no reported side effects, and most men gain an increase of sexual energy and stamina after just one dosage. And we did notice that it is not cheap, with a current retail price of $27 for a party 3 pack. It appears that you can purchase libigrow on several retail sites, including Amazon and Ebay.
However, be advised that several unscupulous vendors have been selling counterfeit products on these sites, so it is advised that you buy direct from the manufacturer at libigrow.com. Watch the following video concerning counterfeit drugs, which also pertains to herbal supplements, on the CNBC website. There is also proof that this is happening to other related products, such as extenze. Check out this article on extenze counterfeits: http://www.nabp.net/news/identification-of-counterfeit-products-prompts-manufacturer-to-recall-two-lots-extenze-supplements/
2. What Does Libigrow Promise?
Like most male enhancement supplements, libigrow promises to help eradicate pre mature ejaculation, and give you more intense orgasms and sexual experiences. This is done through the use of their primary active ingredients, and does not give you a racing heart or any other bad side effects.
3. Reviews of Libigrow
We could only find a few independent reviews of libigrow, apart from their website. When purchasing any enhancement pill or supplement, it is important to note that all men will receive differing results, and just because someone else had good or bad results it does not indicate you will receive the same.
"This pill is an absolute "BEAST", it will have you feeling like King Kong in the bed. I used to use "the man of steel", but that pill used to give me a slight headache and blurry vision. With libigrow it feels natural. I take it at least 1 hour before sex, let it marinate in my system, and once I'm aroused it's "BRICK CITY". And the second round is even more potent. I love this pill and highly recommend."
Review Taken From Amazon
"Same here I bought one pill for 5.99 and it works great. I am not getting paid to say this, but it makes your dick rock hard, but how it works is it works with sexual pleasure has to enhance the erection without sexual pleasure your penis won't be hard for that long. I took it and it made my dick hard at all random weird times when I wasn't even thinking about fucking my wife or anything like that, but it definitely does work. The last time I took it though it didn't work so well."
Pricing and Availability
Libigrow is currently available on their official website for $7.50 for a sample pack. There is also talk of the product being sold nationwide in 7-Eleven food stores, but nothing is official yet. Related Press Release on Libigrow.
4. Overall Conclusion
There is very little information available about this product on their website, short of the ingredients and how to order. According to many of the reviews from customers on their main website, it appears indeed that the product does work. However, it is lacking some of the most potent ingredients you can find in male enhancement pills. Ingredients such as L-Arginine, Butea Superba, and even yohimbe are not found in Libigrow, which concerns us.
Click Here To See Our Top Choices For Male Enhancement 
Leave Your Review of Libigrow Below