LovRub Overview
Some guys are looking for real solutions to their serious problem of persistent erectile dysfunction.  For them, this review will probably not be all that helpful.  Other guys are looking for that little extra something.  That boost.  That added advantage to take them, their partners, and their sexual activity to a higher rung.  For them, LovRub may be something you're interested in.
LovRub is a topical gel.  Actually, it's two topical gels.  It comes in a formula for men and a formula for women.  You can buy them and use them separately or together, however best suits you and your needs.  Customer reviews on this stuff are pretty mixed, so we'll have to sort it out ourselves and see what kind of opinion we come up with.
LovRub Ingredients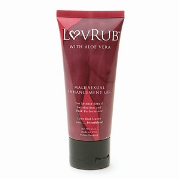 LovRub is an all-natural product, but only two of the ingredients are revealed in their materials.  The first is Aloe Vera.  This makes LovRub cooling, soothing, and slippery. Definitely good for a sex lube base material.  Then there's L-Arginine.  This is a very common ingredients in male enhancement formulas.  It increases the body's production of nitric oxide which then increases the flow of blood to your genitals.  Increased genital blood flow means greater sensitivity to touch. It also means bigger, harder erections.
How LovRub Works
The women's and men's versions both work similarly.  You should make it part of your foreplay by applying it by gently rubbing LovRub onto the genitals.  For women is should be just under the clitoral hood.  For men, up and down the shaft of the penis. Within a few minutes, you should start to feel the tingling sensation that lets you know it's working.  This sensation can be expected to last 35 to 40 minutes.
LovRub Reviews
Customer opinion of LovRub runs the gamut, and it seems to be pretty equally divided on the positive and negative sides.  Some people love it and say it really spices up their sex lives.  Others say it's just a dud.
LovRub Benefits
The ingredients are all natural.
You can use it with condoms.
There's a male and female version.
LovRub Drawbacks
It's pretty expensive if it ends up just working as an ordinary lube.
Reviews are very mixed, with plenty of people saying it just doesn't work.
Where to Buy
There are plenty of online options for purchasing LovRub, either the male version, the female version, or the combination pack.  CVS also carries it.  The price varies a great deal.  We've seen single tubes going for $7 and we've seen them for as much as $20.
Recommendation
We think every one and every couple should keep a tube or two of love gel handy for when the occasion arises.  We're just not sure LovRub is the one you should choose. Unless you can find it for a bargain price, it's too expensive and too often ineffective.
Check Out Our Top Choices in Male Enhancement
Leave Your Review of LovRub Below