Magna RXtra Review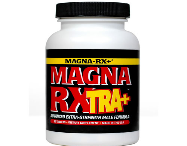 As an alternative answer to their old formula, the makers of Magna Rx have come out with a product very similar to the original, called Magna RXtra. This supplement is supposed to be a new and improved version of the old one, and we have had some personal requests to test it out specifically. While we haven't had a chance to as of this writing, we intend on doing so in the future. In the meantime, we will just give you our initial evaluation of the product and let you know what we think.
What is Magna RXtra?
Just like the original formula Magna Rx Plus, Magna RXtra was formulated to help men suffering from low libido issues. It does not require a prescription, and can actually be found on the shelves of several major convenience store chains such as Walgreen's, GNC, 7 Eleven and others. It was developed by a Dr. Aguillar, whose medical information does not appear to be published online.
So what makes this product so much different from the original? Well, basically all they did was add some all natural energy boosters and ingredients that are used in several other competing products.
So in essence, the only real difference in Magna RXtra as far as the ingredients are concerned is that it contains butea superba, tribulus terrestris, Cola Seed, and Royal Jelly. This is an important addition, however, because these ingredients are essential to any product that really does work.
For example, tribulus terrestris has actually been shown to enhance sexual stamina and libido, and is thought to do so by stimulating androgen receptors in the brain. It has also been shown to increase testosterone levels in lab rats and other vermin, which is an important part of helping to increase male libido.
The full ingredient list in Magna RXtra includes other potent aphrodisiacs, such as L-Arginine, ginseng, and horny goat weed.
Where Can I Buy Magna RXtra?
I have to say, there are ALOT of retailers that sell this male enhancement supplement, which shows that the company is very good at placing their product in stores. You can find it on a variety of retailers sites, including Amazon.com, Ebay, GNC, Vitacost.com, and many more. What was even more surprising was the HUGE DIFFERENCE in price between all of these sites.
For example, if you search on Amazon.com, the price listed for a one month supply is only about $24, including shipping. But then, if you look on GNC, a 90 tablet supply is sold at a whopping $59.95 as of this review. There are a wide variety of prices like this, and I personally think your best bet is to order it form Amazon, to take advantage of their free shipping if you order more than a certain amount.
Magna RXtra Pro's
Nice addition of quality ingredients
Doctor Formulated and Approved
Sold at many reputable retailers
Available Worldwide
Manufactured in the USA
60 Day Money Back Guarantee (if ordered from their website)
Very Good, Positive customer reviews
No reported side effects
Magna RXtra Con's
Wide variations in pricing
No apparent clinical studies
Magna RXtra Recommendation
Judging by some of the reviews that I have read, both on GNC and Amazon, it looks like this product is a winner. Considering the fact that Magna RXtra also contains all of the same ingredients that are found in the original, plus the addition of Tribulus Terrestris and butea superba, I feel that this formula will easily trump the original. The only real issue we had was deciding on where to buy it at the very best price, but other than that we say go for it.
Leave Your Review of Magna Rxtra Below!