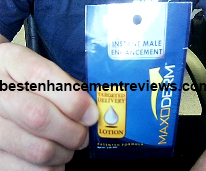 Maxoderm instant male enhancement promises erections in as little as 30 minutes after applying their gel. We tested out a batch of this product to see what kind of effects it would have on us, and decided to report our results to you here. What follows in the most comprehensive review of this cream, as well as a detailed list of the ingredients, and other user results. We actually posted a video review of this on youtube as well, and you can find it towards the bottom of this page.
Product Facts
Available over the counter through a number of select retailers, Maxoderm is a targeted delivery lotion that is supposed to enhance sensation and the feeling of firmness. It is manufactured by a company called Barmensen Labs, which is located in Edison, NJ. According to the products own website, its formulation is one of a kind, and its supposed to start working within minutes of application.
The recommended use is to essentially place a small drop of it onto your male genetalia, and massage it on for about 5 – 10 minutes. It should not be swallowed by any means, so you need to be careful if your partner is going to perform any oral stimulation. One smalle package can last as much as 5 times, so be sure to use just the right amount. Each package that we received contains .2 ounces of product.
Ingredients and Side Effects
The ingredient list for Maxoderm is long and tedious, and reads like a boring novel. I will just list the major ones here for your information: Water, Stearic Acid, Catuaba Bark Extract, Zinc Oxide, panax ginseng, cetyl alcohol, and arginine.
The product is also endorsed by a leading urologist who practices in the New York area. He says that it appears the product does have the ability to enhance erection quality, and give you better sexual enhancement results.
Our Results
When we first applied the lotion, it gave us sort of a tingling sensation, kind of like I were being tickled or something. I followed the directions to the T and found that really didn't help my erection, nor did it make my sexual experience stronger. I'm not sure if I got a bad batch or something, but it just didn't work well at all. On another note, it did smell kind of funny, almost like arm and hammer baking soda.
One of the side effects we noted was a small burning sensation, but we cannot pinpoint exactly which ingredient causes this. Keep in mind that we really have not tried many other male enhancement creams such as this, so there really is no telling as to how it compares with others.
Other Users
"I have tried alot of different products for sexual enhancement, but this one seems to work the best. It gave my erection quality a little bit of a boost, and in general, made my sex drive better. I really like the fact that it is cheap too, and can be found at Walmart. I usually buy this stuff online though, mainly because I'm too embarrased in the stores!"
Todd, California
"This crap does not work at all. I put it on just like it told me too and there was no stimulation whatsoever. I don't know what was worse, the fact that it doesn't work, or the $25 I flushed down the toilet paying for it!"
Richard, New York
Where To Buy Maxoderm Instant
You can find maxoderm in several major retail stores, such as Walmart and Target, as well as online. The cheapest price we could find was for a sample on Amazon, which they labeled as a travel pack, for $8.99. You can buy full bottles of it online at their official site for cheap, and they usually provide you with a free bonus bottle for trying.
Overall Conclusion
We have never been a strong proponent of male sexual enhancement creams, typically because of some of the adverse side effects that can result from them. We chose to try out maxoderm because of a review request from one of our visitors, and decided to present the information to you here. We recommend that you stick with either pills or extenders if you are looking for a healthy all-natural way to help boost your sexual vigor and confidence.
Click Here To See Our Top Choices For Male Enhancement
Leave Your Review of Maxoderm Instant Below