Neo40 Overview
Dave's Rating: 
We talk a lot in this space about Nitric Oxide as it relates to erectile function and dysfunction.  Basically, nitric oxide relaxes and opens up your blood vessels, allowing blood to flow more freely through, transporting oxygen and nutrients throughout your body to where they need to go.  How it relates to erectile dysfunction is that erections happen when blood rushes into the penis during arousal.  When you don't have enough nitric oxide, this is less likely to happen, and happen correctly.
Neo40 is a daily supplement that grew out of the scientific discovery that after the age of 40, nitric oxide levels drop, and
synthesizing it becomes more difficult.  The creator of Neo40, Dr. Nathan Bryan, is very involved in nitric oxide research, and he believes that lower levels of NO are responsible for a number of problems, such as high blood pressure, diabetes, low energy, and sexual dysfunction.
Neo40 Ingredients and How They Work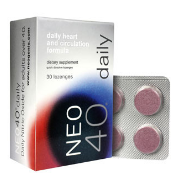 Most nitric oxide supplements use the amino acid L-Arginine, a precursor, to help stimulate NO production.  Dr. Bryan believes that after the age of 40, this no longer works.  So the Neo40 formula is a little different from what we normally see.  It includes Vitamins C and B12 because he believes that these are crucial to the chemical synthesis of NO and the proprietary blend of
Beet Root Powder, Sodium Nitrite, Hawthorne Berry Extract, and L-Citrulline.
Neo40 is a lozenge that you put on your tongue twice a day at first, until your levels rise, then once a day thereafter.
Benefits of Neo40
There are plenty of Neo40 reviews stating that it makes them feel better, and perform better sexually.
It was created by a doctor.
There is research information available on the website.
Drawbacks of Neo40
It's expensive.
Some reviewers say it has no effect.
Where to Buy
You can purchase Neo40 through the NeoGenis website or one of a few other online retailers.  A package of 30 lozenges will last you 15 days at first.  Then,once you switch to the once per day dose, it'll last a month.  The package costs $59.95, and there is a 30 day money back guarantee.
Recommendation
There's no doubt that Dr. Bryan believes in his product, and that there is plenty of research showing the importance of nitric oxide to a healthy body.  The only question that remains is whether or not Neo40 does the job of boosting your levels.  Since we're talking about real medical conditions, like high blood pressure, we think your best bet would be to talk to your doctor, and let him know you're thinking about taking Neo40.  Discuss the pros and cons, and follow his advice.
Leave Your Review of Neo40 Below!