Editor Rating

Rated 5 stars

Spectacular
---
Penis Pumps Vs. Extenders

Reviewed by:

Published on:

Last modified:
---
Penis Extender's Vs. Pumps – Which are better?
Jump ahead to:
What is a Penis Extender
What is a Pump
Advantages / Disadvantages of Extender's
Advantages / Disadvantages of Pumps
Which One Is Right For You?
For most guys looking to gain serious size in the length and girth of their penis, you're probably quickly realizing that this can't be accomplished solely through the use of pills. Penis enlargement has come a long way since the crude air based pumps of the 80's, and the safety and effectiveness of some of the newer products has proven that it is indeed possible to get permanent enlargement.
A question I am often asked is "Which enlargement method works the best to give me permanent gains in size?" My typical answer used to be Enlargement exercises, which are performed with the hands god gave you. My thinking has changed after testing various types of devices, and now I personally think that either a Penile extender or a water based vacuum extender is the way to go.
So you may be asking yourself which one is the right one? The following article will discuss in detail the differences in both penile Extender's and water based vacuum pumps, the advantages and disadvantages of each, and which one is right for you.
What is a Penile Extender Device?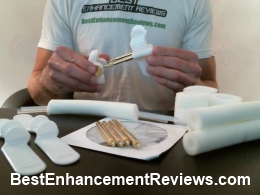 An extender device is a technique which involves strapping a non-invasive device to the base and glands of the penis and uses the theory of traction to gradually "stretch" the penis to a larger size.
Men using extender devices often report gains of as much as 1.5 inches in length, and small gains in girth, in as little as 4 months. The devices are traditionally worn discreetly under clothing, for a time period of 4 – 6 hours per day.
One of the best one's Ive tested is the Phallosan Forte, check out my review here.
What is a Penis Pump?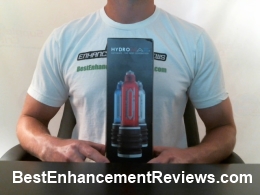 Penis pumps come in two different forms, either water based or air based. The theory for both is the same…while pumping, they introduce increased blood flow into the penis, which gradually over time "stretches" the penis to a larger size.
My personal opinion is that water-based penile pumps are more safe, and provide better results, but air-based pumps also show promise.
One of the best penis pumps i've tested is called the Hydromax Bathmate X30, check out my review here.
Advantages and Disadvantages of Extender Devices
Advantages
Have been proven in numerous clinical studies to grow increase length and girth.
Cheaper than surgical implantation
Can help with Peyronies Disease (i.e. curvature of the penis)
Disadvantages
Can be uncomfortable to wear.
Hard to hide under clothing
Must wear for a min. of 4 – 6 hours per day
Not easy for someone involved in manual labor to wear
Often can cause bruising and nerve damage
More costly than Water Based Pumps
Advantages and Disadvantages of Water Based Penis Pumps
Advantages
Only takes 15 – 20 min. per day of vacuum stretching
Comfortable to use
Has been shown to effectively increase girth more effectively than Extender's.
Often cheaper than Extender's.
Disadvantages
Takes longer to see improved results
Over using may cause tissue damage
Difficult to use in a shower.
Not as effective at treating peyronies as Extender's are.
Which One Is Right For You?
It really is a balance of what you are looking for. Both the extender and Pumps have their own unique advantages, and I can help you decide by providing the following scenarios to you. Are you….
Looking To Gain Length?
If you want to gain permanent penis length, then I feel an Extender device would be best for you. Extender's literally "pull" the penis away from the base, and stretch it to make them longer. The tradeoff is that while you will see an increase in length, you may see a decrease in girth.
Check out an extender called Phallosan Forte. Out of the 12 or so I have tested, it seems to be the most effective in terms of results and quality.
Looking To Gain Girth?
If you are looking to gain penis girth, then a water based pump would be your best option. Because they are drawing blood into the penis, instead of just stretching it like an extender does, it should result in a wider, thicker penis.
Check out a product called the Bathmate Hydromax X30, it's the most effective pump I have tested so far…
Looking To Straighten Your Penis?
If you suffer from Peyronies Disease (bending of the penis), then I would suggest you use an extender device. Not only do Extender's stretch the penis to make it bigger, but they also naturally straighten ones with curvature of more than 30%.
Alternatively, the FDA recently announced a breakthrough treatment called Xiaflex which involves injecting a substance into the penis, and massaging away scar tissue built up which is causing the bend.
Looking To Gain Both Length And Girth
If you would have asked me a couple years ago if I thought it was a good idea to use both an extender AND a pump at the same time, I would have told you you're crazy.
However, my thoughts have changed.  In my personal opinion / experience, this is actually you're best bet at growing both length AND girth.  You have to be smart about it though.
For one, I would recommend wearing an extender like Phallosan Forte first for a period of 4 – 8 weeks.  Then, I would stop using the extender and jump over to using the water based pump like the Bathmate for a period of 4 weeks.
I definitely would NOT recommend using both the extender and pump during the same day, I think it's simply overkill.  However, I have read on various forums of guys doing just that, and getting great results.
I just haven't done it yet, so I can't tell you for sure.
Looking To Increase Sexual Stamina and Performance?
Stick with pills on this one…they are more effective at giving you a boost in your erection quality and control. While pumps can give you a relatively quick erection, unless your going to use a ring to hold the blood in the penis, you will lose it quickly.
Check out a pill called Vigrx Plus, it's the best one ive used to help promote increase erections and stamina.
Leave Your Review of Penis Extender's Vs. Pumps – Which are better Below