PinealTonin Overview
Dave's Rating:

PinealTonin is a sexual enhancement supplement for both men and women.  It is said to work by supporting your natural circadian rhythms.  Apparently, this will lead to better mood, a more calm nervous system, improved sleep, a reduction of stress (which leads to better erectile control for men), a reduction in PMS symptoms and excessive vaginal wetness for women, and more masturbatory control.
PinealTonin is made by the Lin Institute which is a husband and wife team that created the "Orgasm Research Center."  Their methods appear to be a bit unconventional to say the least.  I would definitely recommend a quick peak at their website, and you'll get the idea.
They make several different formulas to address all kinds of issues, most of them relateing to sexuality.  But this review is about PinealTonin, so we'll take a look at what goes into this particular product.
PinealTonin Ingredients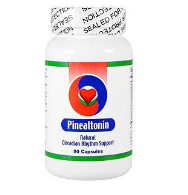 This is in large part, a multivitamin.  Included in the formula are:
Niacin (Vitamin B3), Niacinamide, Vitamin B-6, Vitamin B-12, Folic Acid, Vitamin C, Vitamin D, Calcium, Magnesium, and Zinc.
The rest of the ingredients are mainly focused on calming and mood enhancement.  There's
5-HTP which is indicated frequently for depression.
GABA which is a neurotransmitter for proper brain function.
St. John's Wort which is an herb commonly used for depression.
Green Tea which is an antioxidant.
Passion Flower and Valerian Root which are both used as herbal sleep aids.
How PinealTonin Works
The recommended dose is 1 capsule taken two or three times daily after meals.  There is a strong recommendation not to take PinealTonin with alcohol or other drugs or medications.
PinealTonin Benefits
It's relatively inexpensive.
Taking PinealTonin is like taking a multivitamin with a little extra.
It can be taken by both men and women.
PinealTonin Drawbacks
It's hard to tell how it will help sexual performance. It seems to be more geared toward mood enhancement.
There are no independent PinealTonin reviews from customers who've use it.
There's no money back guarantee.
The whole Lin Institute web presence is just goofy.
Where to Buy
You can purchase PinealTonin through the Lin Institute webstite.  The 90-count bottle should last a month, and it costs $28.  You'll also find it available through some third party online supplement retailers.
Recommendation
On the one hand, PinealTonin is a natural vitamin and herbal supplement that you could derive some benefit from, especially if you're looking for an herbal remedy for mild depression or anxiety.  On the other hand, it's advertised as a sexual performance enhancement.  Because of that inherent confusion, we'd have to pass on recommending PinealTonin.
Check Out Our Top Choices in Male Enhancement
Leave Your Review of PinealTonin Below