Power Pump XL Overview
Dave's Rating:

Everywhere you look, there's a new bodybuilding supplement, or the latest thing – a new bodybuilding supplement combination that you simply must use.  It's not hard to understand why.  Bodybuilders have been using supplements to get their best bodies forever.  So naturally, any supplement maker with a brain is going to capitalize on that thinking and try to get every guy trying to build up some guns to buy their latest magic formula.
Today's entry is called Power Pump XL.  This is a nitric oxide boosting supplement, and it promises you:
Increased Lean Muscle
Boosted Load Capacity
Quicker, More Complete Muscle Recovery
Improved Muscularity
How Power Pump XL Works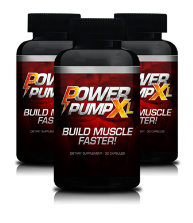 The information on Power Pump XL is enticing, but really kind of vague.  The idea, though, is that by increasing the amount of nitric oxide flowing through your veins, the amount of oxygen and nutrients that reaches your muscles will increase. This ensures that your muscles get everything they need to make the most of each workout, so they build stronger, faster, and bigger.
There is also some talk about how Power Pump XL increases your testosterone and HGH levels.  This would also increase the benefits of your workouts as well as give you more energy and stamina.  Increased HGH levels could potentially even help prevent wrinkles and hair loss.
Power Pump XL Ingredients
Unfortunately, ingredient information is not provided on the Power Pump XL website.  As a nitric oxide booster, L-Arginine is a safe bet, but we really don't know definitively.
Where to Buy
Power Pump XL is only available on the internet through it's official website and its affiliates, and you can only buy it through the "free trial" offer.  What this means is that you pay only shipping for your first delivery.  Sounds good so far.  But if you don't call and cancel within 14 days, they charge you $74.95 and set you up for monthly deliveries and charges until you decide to cancel.  This is all explained in the very fine print, but many an unsuspecting customer has been caught unaware of the details.
Power Pump XL is also being promoted as part of a powerhouse bodybuilding duo along with Optimal Stack, another free trial only type supplement.
Power Pump XL Benefits
Power Pump XL Drawbacks
The formula is not listed on the website.
It's only available through a free trial offer.
It's expensive.
The before an after pics are unrealistic.
Recommendation
If you're looking for real, effective bodybuilding supplements, they're out there.  You just won't find them attached to a free trial offer on the internet or to another free trial supplement offer trying to get you to buy both together.  It sure would be nice, but unfortunately, it doesn't work that way.
Check Out Our Top Choices in Bodybuilding Supplements
Leave Your Review of Power Pump XL Below