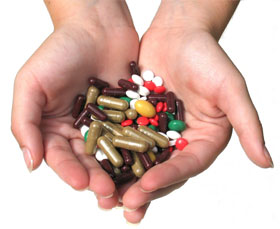 Power Pump is the latest supplement introduced to the market which claims to "get you ripped" fast. We found this supplement while researching various bodybuilding supplements, and this particular one was on a review blog from some guy claiming to use the substance. He talks about how this product is used by Hollywood celebrities, and has been a secret in the industry for some time. Does this sound familiar? Well, we wanted to get to the bottom of it, so we decided to review power pump for you to see if it actually works. Check out our analysis of this product below. (Please note that this review is not concerning VPX Power Pump 7, a completely different product)
What is Power Pump?
Power Pump was designed and manufactured by a company called Power Health Direct, which we could not find very much information on. It is marketed to customers both in the US, as well as the UK and Australia, and cannot be found in stores. The premise behind this product is that it can increase muscle mass, lean you out, improve endurance, and increase athletic performance.
It does this by increasing the levels of Nitric Oxide, which act as a vasodilator, meaning they help deliver oxygen to the blood quicker. According to the label, you are supposed to take 3-6 capsules 30 minutes before breakfast and lunch, and drink a minimum of 64 ounces of water throughout the day.
There are literally hundreds of supplements that have jumped on the Nitric Oxide bandwagon, such as NoxySurge and Naturally Huge, and there has been some recent clinical research on the topic below.
How Does Power Pump Work?
Recent studies have suggested that L-Arginine, one of the leading ingredients in power pump, helps to secrete more testosterone, which in turn can help generate more muscle mass. Arginine is actually used to treat a number of conditions, including Type I and II Diabetes, Chest Pain, and even heart failure. (see related resource: Mayo Clinic)
Power Pump also contains a host of other ingredients, which include a complex blend of amino acids and peptides that can be found in other bodybuilding supplements. One of these ingredients includes L- Citrulline, which helps to synthesize the process of converting Nitric Oxide in the blood.
User Reviews
There have not been any reviews posted online from users who have used Power Pump, exclusive of their official website. If you or someone you know has used it, please submit your review here.
Pricing and Availability
We searched the internet for the best price and where you can buy it, but it only appears available on their official site. The average retail price for a months supply is $50, but the company offers discounts for buying in bulk.
Do Nitric Oxide Supplements Like Power Pump Really Work?
There is no scientific evidence that suggests that the release of Nitric Oxide actually helps to build lean muscle mass. While the arginine studies presented above have pointed out that l-arginine can help with a number of ailments, there have been no clinical studies pointing out that it will help build muscle. Read why it doesn't work here.
What Does Work?
The most effective supplement that can be used to promote lean muscle growth, as well as enhance your energy levels in the gym is creatine. Creatine has been used by bodybuilders for decades to give them increased performance and create massive gains quickly. Creatine works by infusing the muscles with water, and allows them to retain that water so muscle recovery is quicker.
To learn more, read our review of Muscle Advance Creatine, the most effective supplement to help you gain lean muscle and improve your overall physique.
Leave Your Review of Power Pump Supplement Below