Prime Power Overview
Dave's Rating: 
There's a company called NorthStar Nutraceuticals that makes all kinds of nutritional supplements for all kinds of conditions and ailments.  They include everything from joint support to headaches,
digestive health to hair regrowth.  And yes, erectile dysfunction and sexual performance issues.  What's nice about getting your sexual support from a company like this is that they are invested in maintaining a good reputation, and that means taking care to make sure all their products are safe and effective.
Prime Power is one of their sexual dysfunction supplements and the marketing description they provide is very encouraging.  If you use Prime Power, you'll be able to get back that spark you had in your younger days, no matter how long it's been since those younger days have passed.  Libido, erections, and stamina will all come rushing back and you won't believe the way you can perform.  (And neither will she!)
Prime Power Ingredients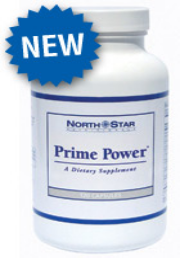 NorthStar makes a big deal of the primary ingredient in Prime Power.  It's called Shilajit, and boasts a nickname of "Blood of the
Mountain".  Legend has it that when it was first discovered on the
faces of the Himalayan Mountains, it was thought to be a mirage.
What it turned out to be is a powerful herbal aphrodisiac.
In addition to Shilajit, the Prime Power formula contains:
Eurycoma Longfolia which frees up bound testosterone to improve both libido and performance ability.
Korean Red Ginseng which acts as an aphrodisiac as well as an energy and stamina booster.
ViNitrox which is a proprietary ingredient.  It's a combination of Grape Pomace and Apple Skin for their antioxidant properties.
Prime Power is a daily supplement.  The recommended dose is 4 capsules per
day.
Prime Power Benefits
It's made by a reputable company.
There is a money back guarantee.
The ingredients are all natural.
Prime Power Drawbacks
The Prime Power formula doesn't have anything for increasing blood flow.
I found no Prime Power reviews, positive or negative, from customers who've used it.
Where to Buy
You can purchase Prime Power through the NorthStar Nutraceuticals website.  A single bottle sells for $49.95, and discounts are available for buying more than one bottle at a time.
Recommendation
The marketing for Prime Power does a good job of making you think it could be the answer to your prayers.  The problem is, the formula just doesn't back it up.  A couple of herbal aphrodisiacs and a testosterone booster just isn't enough.  If you've got erectile problems, you need something to
boost erections with blood flow.  There are tons of male enhancement supplements that do provide that.  I'd suggest you go with one of those.
Leave Your Review of  Prime Power Below