Sexlets Gum Review
Just when I thought I had seen it all when it comes to male enhancement products, I come across a product called Sexlets Gum. A male enhancement gum you ask? Well, sure, why not! We have seen everything from the obvious pills, gels, and oils, to jelqing devices, lengthening systems, patches, and even dissolvable strips. But can a male enhancement gum really do the trick in the bedroom? We decided to buy a pack ourselves to test it out, and here are the results of our research. (Skip To Our Results)
What is Sexlets Gum?
Sexlets is a gum designed to help men get bigger erections, enhanced libido and stamina, and give you more sexual energy in the bedroom. Distributed by a company called Future Lifestyles LLC in Opa Locka Florida, Sexlets is actually one of the only male enhancement gums on the market, and contains a powerful blend of all natural ingredients.
Sexlets works very similarly to pills and patches by introducing these ingredients into the bloodstream through absorption in the mouth. It works alot like a nicotine gum, whereby you basically chew it a little bit, and then tuck it against the gum so that maximum absorption is achieved.
In a NBC news interview conducted with Tommy Babil, representative for Sexlets Gum, he said that it is not only an antioxidant and a testosterone booster, it also is an effective blood stimuli and energizer. One stunning realization that I didn't even know about until I saw the interview was that the ingredient orchic powder is actually ground up testicles of a bull!  Check out the news report below:
The full ingredient list in Sexlets gum includes:
Yohimbe Bark Extract
Orchic powder
Royal Jelly
Damiana Leaves
Maca
Vitamin E
Ginseng Powder
Glutamic Acid HCL
Dehydroepiandroterone (DHEA)
These ingredients are really nothing revolutionary, and can be found in hundred of male enhancement supplements across the market. We have written several times about Yohimbe, which is a very powerful, yet controversial, ingredient that has been injected in numerous products. In our experience it works great, can give you a hard-on in minutes, but has a tendency to cause some very bad unwanted side effects.
Our Results From Taking Sexlets Gum
The directions on the Sexlets Gum packaging state to che one piece of gum, three times a day, or as directed by your practitioner. I have taken Yohimbe many times before, so I think I may have built up a little bit of a tolerance to it, but it still does work for me. There is no indication of how much Yohimbe is in Sexlets gum, but my guess would be that one stick of gum is about 2% or 3%.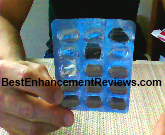 The gum is actually in the shape of a pill, but its obvious that you are not supposed to swallow it. I got the berrymint flavor, and it actually tastes quite good at first, but starts to lose its flavor very quickly.
I must admit that the first couple of pieces I chewed did not do much at all. I wasn't expecting anything drastic, mainly because I figured it would take a few pieces to start seeing any results.
Once I hit the second day of chewing the Sexlets Gum is when it started to hit me, albeit very slowly. I was getting hard just thinking about certain things, and it was definitely starting to kick in. Unfortunately, many of the same side effects associated with Yohimbe also started hitting me as well, including a slight nausea, light dizziness, and a headache.
I stopped taking Sexlets after a few days, because I really don't think it would make much of a difference if I kept chewing it.
Video Review of Sexlets Gum
Here are a list of Pro's and Con's summarized about my experience with Sexlets:
Pro's
Very innovative product
Tasted pretty good
Discreet Shipping
Manufactured in the USA
Relatively inexpensive (around $12 for a package)
Con's
Official Sexlets Gum Website is Horrible, all text is in white with a light background (can't read anything!)
Took several pieces to start feeling anything
Minor side effects from the Yohimbe
Very hard to find where to buy it
Official Conclusion
It's a real toss up for Sexlets Gum. On the one hand, it does work fairly effectively once you chew enough pieces of it. On the other, the side effects might not be worth your while. There is only one website that seems to even sell the stuff, so finding it is easier said then done. It tasted pretty good, but let's face it, can you really wait a day for something like this to work? If you are looking for a fast acting product to help boost your vigor and libido, I would not recommend Sexlets Gum. But if you are looking for something that can work over a period of a few days, I say give it a try.
Leave Your Review of 

Sexlets Gum

 Below!