Sytropin HGH Overview
Dave's Rating:
Human Growth Hormone, or HGH, is often called the "Fountain of Youth."  There's some truth to that, and there's definitely a bit of exaggeration too.  HGH is released by pituitary gland and encourages replacement of dead bodily cells and generation of new ones.  HGH is abundant in our youth, but drops off significantly as we age.  Synthetic HGH is used by prescription for a number of purposes, mainly in children who aren't growing properly.  The supplement industry provides help in another form.  They make pills and sprays that stimulate your body's own HGH production process.  The thinking is that if we maintain higher HGH levels as we age, our bodies will stay younger longer.
Sytropin HGH is a supplement in spray form.  It claims to increase the amount of HGH in your body so you get results like:
·         More lean muscle mass and less fat
·         More skin elasticity and fewer wrinkles
·         Thicker hair growth
·         More energy
·         Better, more restful sleep
·         Increased libido
·         Better mood, concentrations, and memory
·         Increased resistance to disease
·         Stronger bones and muscles
Sytropin HGH Ingredients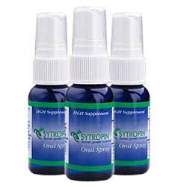 Fortunately, the Sytropin HGH website lists the ingredients and explains how they work to boost the HGH in your body.  A few of the highlights are:
Alpha GPC which increases secretion of HGH 
GABA which works with the central nervous system to improve sleep and promote fat loss. 
Amino Acids like L-Arginine, Glycine, L-Tyrosine, and L-Valine to help improve protein synthesis and neurotransmitter effectiveness. 
Moomiyo Extract which is an anti-inflammatory which also help prevent age related joint deterioration. 
Ornithine Alpha Ketoglutarate which enhances immune system functioning making your body more resistant to disease.
How Sytropin HGH Works
Sytropin HGH comes in spray form so the ingredients get to be absorbed directly into the bloodstream without having to go through the digestion process.  Instructions for use are to spray 2 sprays and hold them under your tongue for 2 minutes in the morning.  Then to do the same thing but with 4 sprays at night.  They recommend starting with a 3 month supply to make sure you have a chance to realize the full effect.
Sytropin HGH Benefits 
 The spray form allows ingredients to be absorbed and used quickly and  efficiently.
  It contains most of the ingredients we look for in an HGH secretagogue.
There is a 90 day money back guarantee.
Sytropin HGH Drawbacks
 The jury is still out on whether or not this type of natural HGH producing  Supplement works.
We found no positive Sytropin HGH reviews from customers and most of the forum discussions we saw tended toward the negative.
No clinical testing has been performed.
Where to Buy Sytropin HGH
You can purchase Sytropin HGH online through the official website or one of its many affiliates.  A single bottle, which is a month's supply retails for $59.95.  If you buy 2 bottles, you get one free, and if you buy 4 bottles, you get 2 free. There's a 90 day money back guarantee, so you should be able to return it for a full refund if you're not satisfied.
The Final Word
There is no scientific evidence that Sytropin HGH help increase your body's HGH levels. There is however, some anecdotal evidence that supplements like these may have some positive effect.  Knowing this, if you want to try an HGH supplement, given the ingredients and the 90 day guarantee, Sytropin HGH would be one to try.
Check Out Our Top Choice for HGH Supplements
Leave Your Review of Sytropin HGH Below