Trig X2 Overview
Editors Rating: 

The supplement you take before working out is really important to the results you get out of your bodybuilding efforts.  You want something that gives you energy and gets your muscles pumped with blood, oxygen, and nutrients so you're firing on all cylinders and lifting the maximum weight you can.
So I would argue that if you can only take one bodybuilding supplement, it should be a pre workout.  But if you can expand your arsenal, a post workout supplement is worth looking into.
Trig X2 is a post workout supplement that focuses on improving muscle recovery so you're at your best for every workout, and stronger than you were for the one before.  It's available online, and we've collected all the information we could find so we can help you decide if, out of all your choices in post workout bodybuilding supplements, Trig X2 is the one for you.
How Trig X2 Works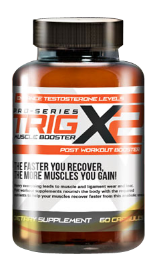 When we started looking into Trig X2, almost immediately, the story started to unravel.  They proclaim it to be a post workout recovery supplement, but the benefits listed on the official website are pretty much what you look for in a PRE workout.
They say Trig X2 enhances testosterone and nitric oxide levels so you have more energy, greater mental focus, more intensity, and extreme pumps.  See?  These are all pre workout qualities, not post workout ones.
If you keep reading, you'll get to the part that's relevant to post workout recovery, but there's very little explanation about how it works.
Trig X2 helps muscle recovery by replacing amino acids.  This is indeed a valid point.  Protein replacement and protein synthesis are key to successful post workout recovery.
Trig X2 Ingredients
The Trig X2 website does not include an ingredient list.  This is always disappointing because how are you supposed to know if a supplement is right for you when you don't even know what's in it? We are provided with one big hint about a single ingredient, and that is L-Arginine.
It's pretty clear that Trig X2 has it because they tout nitric oxide production as a benefit and talk about how amino acids help replace lost protein.  L-Arginine is an amino acid that's also a precursor to nitric oxide.  It's used in most pre workout supplements to increase NO amounts, causing vasodilation which means more oxygen, more nutrients, and more pumps to your muscles. But that's really all we know.
Don't get me wrong, L-Arginine is a great ingredient.  But you can't swing a cat without hitting a bodybuilding supplement with L-Arginine as a primary ingredient.  So while good, it's nothing special, and you can get it almost anywhere.
Trig X2 Stacks
I was almost finished researching Trig X2 when I came across "the article".  If you've read some of our other reviews, you may know what article I mean.  If not, let me explain.  In this case, the "magazine" is called Mens Fitness Trends.
Mens Fitness Trends is not a real magazine and the Trig X2 article is not a real article.  It's all just an advertisement designed to look like a genuine editorial piece written by a fitness magazine editor.
What is says is that there's this incredible bodybuilding stack that all the celebrities are using to bulk up for their next major roles.  The stack is 1285 Muscle and Trig X2, and it will give you 6 pack abs in a month. Just ask the "reporter', Bryan Stevens, who tested it himself, and got incredible results.
But here's the thing.  Last week, I saw the exact same article with all the same claims, before and after pictures, benefits, and results as this one, written by the same reporter.  The only difference was the 2 products used.  Last time it was Xtreme Antler and Muscle Advance Pro.  And it's been several other products before that.
If you still want to believe, let me point out that this marketing is so completely lazy that they don't even update the benefits to fit the supplement of the day.  The Trig X2 bottle and website both say that Trig X2 is a post workout supplement providing support for muscle recovery.
But this article refers to Trig X2 as the fat burner/detoxifier.  Seriously, they don't even bother to check what the supplement does before they plug it into the form.
Trig X2 Free Trial
So why do they do this?  Why do they create false and misleading advertising?  It all stems back to the free trial program they use to sell Trig X2.  Trig X2 is only available through its free trial offer.  You sign up by paying only a small shipping fee.  They send you a bottle and give you 14 days to try.
Unless you cancel and return the product within the short trial period, you will be billed $89.99 for the original bottle, and signed up for their monthly auto-ship program where they'll send you and bill you for a new bottle each month until you cancel.
These types of "free trial" offers are all over the internet, and they've caught thousands of people off guard.  They terms and conditions are spelled out, but you usually have to go digging through the website to find them, and even if you do know them and try to comply, you still may have trouble reaching the company and meeting the extremely restrictive terms.
The way this relates to this phony article is that instead of one free trial product, they get you to sign up for 2.  If scamming you out of $90 is good, then clearly scamming you out of almost $200 is better!
Trig X2 Recommendation
Our conclusion about Trig X2 couldn't be more simple.  Why would anyone recommend buying a supplement that 1 – doesn't disclose its ingredient list and 2 – tries to get money out of you not by providing a quality product, but by tricking you into thinking you're making a deal that you're really not making.
I often see people comment that "well, if you read the terms, you would have known what was going on."  Well, that's true, but then I have to ask in return, why would you want to do business with a company that is very clearly trying to deceive you.  Plain and simple, don't bother with Trig X2.
Check Out My Top Choice For Pre Workout Supplements
Leave Your Review of Trig X2 Below