Vazomyne Overview
Dave's Rating: 
Vazomyne is a male enhancement supplement that focuses on the two most important phases of sexual performance.  The first is during arousal and foreplay when you need to achieve that firm, hard erection.  The next is during the act when you need to maintain that erection and not prematurely ejaculate, so you can make sure to fully satisfy your partner.  With Vazomyne, you're assured a strong start and a steady finish.
The official Vazomyne website displays a list of benefits that include improved and lasting erections, a healthy prostate, easy dosing, clinically proven yet natural ingredients, and greater satisfaction for the both of you.
Vazomyne Ingredients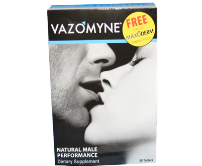 The website does list all the ingredients, but it unfortunately does not explain how they work.  Luckily, we've got a pretty good idea of that:
L-Arginine increases the amount of blood flowing to the penis during arousal. It does this by contributing to the production of Nitric Oxide which relaxes blood vessels.
Saw Palmetto and Nettle Leaf help improve the health of your prostate.
Ginkgo Biloba also helps with improved blood flow to the penis.
Damiana Leaf and Muira Puama are both herbal aphrodisiacs that boost libido and get you thinking more about having sex.
How Vazomyne Works
You are instructed to take one Vazomyne tablet each day on a full stomach. You can also take another pill shortly before sexual activity for a performance boost. It's expected that you'll start to feel some effect right away, but the best results will be achieved over time.
Benefits of Vazomyne
It contains some good solid male enhancement ingredients.
The ingredients are all natural.
The website is informative.
Drawbacks of Vazomyne
There is no money back guarantee.
We found no independent Vazomyne reviews from customers who've used it.
No clinical studies have been performed or cited.
Where toBuy
You can purchase Vazomyne through its official website.  If you buy a single box (a one month supply), you'll pay $39.99.  If you buy 2 boxes, you'll get one free.  They also have a "Rapid Development Program" that has you receiving a 2 months supply every 60 days at a discounted price.  One nice thing is that the website states that unlike so many other products, you have to ACTIVELY sign up for the program.  It won't happen automatically.
Recommendation
Really the only thing stopping us from recommending that you try Vazomyne is the lack of a money back guarantee.  There's a real good chance that it can work for you.  Just know that you'll be committing to losing the $40, even if Vazomyne doesn't work.
Leave Your Review of Vazomyne Below!