Xtracum Overview
Dave's Rating: 
We're seeing more and more volume pills out there, promising to increase your ejaculate so you can shoot bigger loads.  There are a bunch of reasons for wanting this.  Some guys simply want to test their limits and see how far they can shoot.  Some guys want to impress their girlfriends with porn star quality jizz.
Some guys are all about their own pleasure and since more ejaculate means longer, more intense orgasms, they figure why not.  And some guys may be trying to conceive.  We recently came across a product called Xtracum that promises to come through for all these guys with all their various reasons for wanting to produce more cum.  We decided to look into it.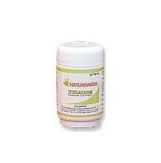 Xtracum makes a few promises in addition to the increased ejaculate volume.  They say it also increases your libido, improves your erection ability and quality, and intensify and prolong your orgasms.  With regular use, the quality of your sperm will also improve by up to 500%.
Xtracum Ingredients
The Xtracum formula includes a number of herbs that help improve libido, such as:
Tribulus Terrestris which increases the secretion of Luteinizing Hormone from the pituitary gland. LH then signals the testes to produce an increased amount of testosterone.
Withania Somnifera which induces relaxation and relieves stress.
Asparagus Racemosus and Mucuna Pruriens which are both natural aphrodisiacs that increase libido.
Pueraria Tuberose which increases your sperm count.
How Xtracum Works
The recommended dose is 2 Xtracum pills once a day with a full glass of water about half an hour after breakfast.  If you want to get results more quickly, you can take an additional 2 pill dose later at dinner time.  Make sure you don't take more than 2 pills every 8 hours.
Benefits ofXtracum
The ingredients are all natural.
There's a 60 day money back guarantee.
It improves multiple aspects of your sex life.
Drawbacks of Xtracum
It lacks any ingredients to increase blood flow to the penis for better erections, even though it says it addresses that issue.
The only independent Xtracum review we saw from an actual customer complained that it didn't work.
It's expensive.
Where to Buy
You can purchase Xtracum through a number of online sources.  A single bottle sells for $69.95 with discounts offered when you purchase multiple bottles at once.
Conclusion
I think it's good that a volume pill addresses the additional benefits that guys normally look for in their male enhancement supplements.  The trouble is, Xtracum tries but misses the mark.  In order to be a true all-arounder, it needs something like L-Arginine and/or Epimedium to improve erections.  Because Xtracum doesn't have these and because of the price, I recommend against using it.
Leave Your Review of Xtracum Below!