Alpha Strike Review
In todays review, we're going to be talking about a product called Alpha Strike male enhancement. This is actually a special review request I received from someone looking for a replacement for Vitalikor fast acting, and he was wondering what I thought about the product.
I get product review requests all the time, but this one actually intrigued me because it is for sale in GNC, and I just so happened to live right around the corner from one. Rather than just research a bunch of ingredients and customer reviews online, I decided to buy a box and try it out myself.  So is Alpha Strike really worth it? Let's find out…
What is Alpha Strike?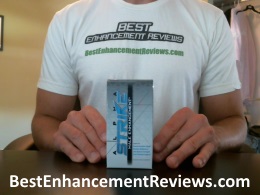 Alpha Strike is a fast acting male enhancement product that is marketed and sold by a company called NDS Nutrition. Amongst other things, it claims to help support sexual funtion and libido, stamina and endurance, as well as support lean muscle and strength. There's no surprise that it claims all of these things, mainly because most men's health supplements like this one have a wide variety of ingredients that help with a broad range of issues.
The ingredients in Alpha Strike are a bit long to list here, so you'll have to bear with me. The primary ingredient appears to be DHEA, which is known scientifically as Dehydroepiansrosterone. DHEA works as a precursor to male and female sexual hormones, which peaks around your mid-20's. (1) The idea is that it DHEA can help to increase testosterone levels, but there has been no conclusive evidence to date.
Alpha Strike is further broken down into a 3 part blend of proprietary ingredients…a "T-Max" blend, a "Vaso-Max" blend, and a "Prostate support" blend.
T-Max Blend: The T-max blend is composed of stinging nettle flower, Safed Musli Extract, Maca powder, Eurycoma Longifolia, Tribulus Terrestris, and Avena Sativa.
The idea behind the T-Max blend is apparently to increase energy levels by oxygenating blood, balancing sex hormones, and also increase testosterone levels naturally through the luteinizing hormone.
My guess is that claim is derived from the VERY limited research that has been done on Tribulus Terrestris, but none of it has been confirmed in a clinical setting.
Vaso-Max Blend: The Vaso-max blend is composed of red beet juice, bacopa monnieri, korean ginseng, american ginseng, and ginkgo biloba. You can find many of these ingredients in practically every other male enhancement supplement on the market, and I can attest to their individual effectiveness.
Ginseng has been well known to help support the circulatory system, which in turn allows for more efficient blood flow. This means that when you get erect, the idea is that more blood will flow to the penis, giving a more enhanced and prolonged erection.
Prostate Support Blend: The prostate support blend is made up of only two ingredients, saw palmetto powder and milk thistle powder. Saw Palmetto is actually well known for its use in decreasing symptoms of Benign Prostatic Hypertrophy, or BPH. (2)
Who Are The Makers Behind Alpha Strike?
As mentioned earlier in the review, Alpha Strike is made by a company called NDS Nutrition, which is located in Omaha, Nebraska. NDS sells a wide variety of supplements, ranging from muscle recovery to diet and weight loss pills.
They've been in business since 2002, and apparently sell their products exclusively through GNC. Apart from a settlement that was levied against them in 2008 for using the likeness of a bodybuilder on their product marketing without his permission, NDS appears to be a reputable company.
NDS is owned by Fitlife Brands, a publicly traded company who operates several other brands including PMD, Siren Labs, and Core Active.
My Results With Alpha Strike
In order to increase sexual performance, the instructions on the label say to take 1-2 capsules 30-45 min. prior to sexual activity. I took one on an empty stomach and felt no effects. After about an hour, I decided to take one more capsule and again, no effect.
I've only been taking it for a few days at this point, but I'm going to give it another 2 weeks before I jump to any conclusions.
Pro's
Available both online and in GNC
Marketed by a reputable brand
All natural and safe ingredients
Con's
A bit expensive, coming in at $60 on average
I had no effect with it
Capsules are quite large
Recommendation
While its only been a short time that I've been taking it, I'm going to go out on a limb and say save your money. Alpha Strike, at least for me and for the 6 other guys on the GNC website that reviewed it, had no effects from it whatsoever. You would think that an expensive product like this would produce SOME result, but unfortunately that's not the case.
Leave Your Review of Alpha Strike Below