Argi-Vive III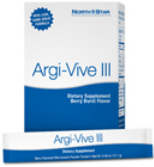 Manufactured and marketed by NorthStar Nutritionals, Argi-Vive III is a natural herbal product that can be used to enhance various sexual capabilities in men including sexual stamina, performance, pleasure and desire (libido). Let's read this comparative review article to discover more about this product.
What is Argi-Vive III? 
Argi-Vive III is quite different from other supplements because of the very fact that it is not a pill. Rather, it comes in an "oral drink" form. Each box contains its fine ingredients in a powder form which are then to be mixed with water or some other liquid before each use. The product contains about 9 natural ingredients.
Reviews, endorsements or testimonials on the product 
Quite surprisingly, there is only one customer testimonial even on the official product page. However, there are several independent or third party reviews on various websites that seem to promote or even discourage the use of this product. In fact, an independent search on Google does reveal quite a few testimonials and reviews that do not classify this product as a credible one.
Composition / ingredients of Argi-Vive III 
Argi-Vive III is a blend of multi vitamins, herbs and amino acids (proteins). The following ingredients are worth mentioning here:
Muira Puama
Maca
Catuaba Bark
Panax Ginseng
Ashwagandha root
Gotu Kola
Niacin and,
Vitamin B-12 
How does Argi-Vive III work (Mode of action)? 
The major ingredient in Argi-Vive III is L-Arginine, a potent amino acid (protein) that acts to cause increased production and liberation (release) of a specific living gas in the blood known as NO (nitric oxide). This gas is considered essential in the production and maintenance of penis erections. The other ingredients present in this product seem to boost libido and enhance sexual stamina and potency.  Read more about the benefits of l-arginine.
Argi-Vive III is for you if: 
You hate swallowing pills on regular basis
You want a quick, short-term solution (product acts rapidly because of quickly dissolving liquid nature)
You want to use a product that will also act as an aphrodisiac (libido booster)
Argi-Vive III is not for you if: 
You want to use a male enhancement supplement in a "pill / capsule" form
You want to use a product that will also address and target your testosterone levels in the blood
You will only use a credible and scientifically backed product
Pros of Argi-Vive III 
The official product page (not  website) present on the NorthStar website is well detailed and informative
The price of each bottle is relatively affordable i.e. $49.95 (bulk orders are more cost-effective i.e. 6 boxes come for $ 279.70)
The product comes with a significant 60-day Moneyback guarantee
Each drink is berry-flavoured for easy ingestion
Cons of Argi-Vive III 
The product does not have its own individual official website
There are no specific product based FAQs even on the official page of the product
The product has to be used daily / regularly for the maintenance effect
Product packaging or webpage does not contain the complete labelling information (no mentioning about the quantities of each ingredients)
There are no clinical trials / research or studies to back this product
There are quite a few negative online testimonials about this product
Product comes without any free trial or free samples offer
Our recommendation 
While Argi-Vive III appears as a safe and effective product that comes at cheaper price and with Moneyback guarantee, there are several factors that seem ambiguous about this product. Firstly, there are no free samples / free trial offer provided. Also, there is no official website (the website of the parent company only contains one page about this product). Also, ingredients' quantities are not shown. Furthermore, there are not many credible testimonials or user reviews that really advocate the successful use of this product.
Leave Your Review of  Argi-Vive  

III  

 Below