Arctic Zero Overview
It doesn't matter if you're young, old, ripped, or how to put it… blubbery.  We all like ice cream.  But if you're training, gaining, building, or losing, you need to put that sweet, creamy goodness right out of your mind.  Or do you.  Enter Arctic Zero, the 125 calorie per pint frozen dessert.
I know what you're thinking.  What is this guy doing talking about ice cream?  He knows about pills not produce.  Well the thing is, Arctic Zero keeps popping up on my bodybuilding radar.  Guys (and girls) are talking about this stuff and how it may or may not be able to improve your fitness results by allowing you to indulge without guilt and without getting off track.
What Exactly is Arctic Zero?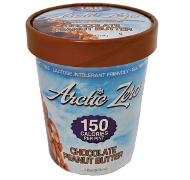 Arctic Zero is a very low calorie/no fat ice cream subsititute.  I'll tell you right off the bat.  If you think it's going to taste like ice cream, you'll be disappointed.  It's first ingredient is water so that should give you an idea that you're not getting creamy.  It's more like you're getting… icy. It comes in lots of flavors.  There's Cookies and Cream, Coffee, Vanilla Maple, Chocolate Peanut Butter, and a few more.  My favorites are the Coffee and the Vanilla Maple.  But I digress.
On top of the fact that Arctic Zero is super low calorie, it's got whey protein and some fiber.  So get this.  Not only is Arctic Zero not bad for you, it's even a little good for you.
Arctic Zero Ingredients
The label lists it all out and it's pretty simple.  Take the Cookies and Cream for instance.  It's got:
Purified Water
Whey Protein Concentrate
Organic Cane Sugar
Chicory Rot
Dutch Processed Cocoa Powder with Alkali
Guar Gum
Xanthan Gum
Natural Flavors
Sea Salt
Monk Fruit Concentrate
Not exactly all natural, but not too terribly chemical sounding, right?  This monk fruit is fast becoming the new Stevia, so Arctic Zero might be your first intro to the next big thing.
How Does It Taste?
Well, here's where you'll get all kinds of different answers.  Some people love it and some people, well, don't.  Like I said from the start, if you thikn it's gonna be creamy like ice cream, you'll be disappointed.  But if you think it's gonna be cold and sweet like ice cream, you'll be thrilled.  Because it is.  And for 37 calories a serving, it's hard to beat.
Where Can You Get Arctic Zero?
Arctic Zero is not cheap.  You'll be paying upwards of $4 a pint, and I've seen it for more than $5.  Lots of people order it from Amazon.  It's also in lots of grocery stores. I know Whole Foods has it, and Safeway too.
Benefits of Arctic Zero
It's a very low calorie dessert.
It's got protein and fiber.
You can use it as a base for a protein shake.
Drawbacks of Arctic Zero
It's not creamy.
It's hard as a rock when it comes out of the freezer. (You definitely need to let it sit out for a little while).
It's expensive.
The Last Word
You may not end up loving it, but if you can't or shouldn't have ice cream, and you feel deprived as a result, you should most definitely give Arctic Zero a shot. It's a decent replacement, and the super low calorie count is hard to beat.
Check Out Our Top Choices For Pre-Workout
Leave Your Review of  Artic Zero Below