BPI Pump HD Overview
How many times have you heard the phrase: "The Ultimate Pre-Workout Formula"?  If you're experience is anything like mine, the answer is "A crap ton!"  But we have hope so we keep looking for the one that really delivers on that promise.
Today's entry is From BPI Sports and it's called BPI Pump HD.  According to the marketing, BPI Pump HD takes a different approach than your typical stimulant/nitric oxide pre-workouts.  They say you'll end up with the most insane muscle pumps you've ever seen, but that the pathway for getting there is an entirely different journey than what is pushed by the rest.
How BPI Pump HD Works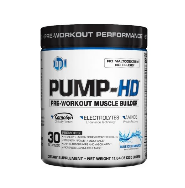 Instead of nitric oxide to relax blood vessels and let more blood flow to the muscles, BPI Pump HD works on the idea that you need to push performance, strength, muscle building, and pump enhancing instead of just blood vessel widening and stimmy energy.  So when your muscles are being pushed to their new outer limits, the results you get in return are phenomenal. 
BPI Pump HD Ingredients
The BPI Pump HD formula is divided into separate complexes, but it does list the components of each of these complexes.  There's:
The Electrolyte Matrix which is basically focused on general health and muscle building and includes Calcium, Magnesium, Potassium, Creatine, L-Aspartic Acid, Beta Alanine, and L-Leucine.
The Endurance Complex which is basically the energy component and includes L-Carnitine, Taurine, Caffeine (as much as 3 cups of coffee), and Yohimbe.
You should take 1 scoop with a full glass of water or juice about 15 to 30 minutes before working out.
BPI Pump HD Reviews
Most of the BPI Pump HD reviews I came across were very complimentary.  It is not uncommon to hear a guy say that BPI Pump HD is the best pre-workout supplement he's ever taken.
"I've used many pre-workout supplements and this one is (for me) the best. I feel so good during workouts I add extra sets and reps just to reach fatigue."
Benefits of BPI Pump HD
It's got great reviews from customers who use it.
It's reasonably priced.
It combines the best elements of pre and post workout supplement features
Drawbacks of BPI Pump HD
It contains Yohimbe which has been recommended against by the FDA especially for long term use. It may cause serious side effects, like rapid and extreme blood pressure changes.
Where to Buy
You can buy BPI Pump HD at GNC or online.  The tub of 30 one-scoop servings sells for anywhere from $29.99 to $59.99 so make sure you look around for the best price available.
Recommendation
For anyone who's in the market for a solid pre-workout supplement, I'd say BPI Pump HD is a great choice, with one caveat.  The yohimbe is a little scary, so if you have any blood pressure or heart issues, I would consult with your doctor first.
Check Out Our Top Choices in Pre-Workout Supplements
Leave Your Review of BPI PUMP HD Below