Drill Pill Overview
When Drill Pill was first brought to my attention, my initial thought was "wow, that's a great name."  So that sets the tone and the expectations right off the bat.  I expect Drill Pill to be a quality male enhancement supplement that I want to try.  Whether or not this turned out to be the case is what I'll reveal shortly.
Drill Pill is a take-as-needed kind of male enhancement supplement, otherwise known as a Viagra Alternative.  Some pills are meant to be taken daily so you're always ready.  Drill Pill is for guys who just want that boost when they want it, and want to be able to take something right then and there.
How Drill Pill Works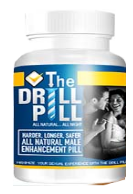 The recommended dose is 1 Drill Pill about 30 to 45 minutes before you plan to have sex.  The pill gets to work right away and lasts for up to 3 days.  A package of 12 pills is considered to be a month's supply.  The basic mechanisms by which Drill Pill works are increased blood flow and testosterone levels with a touch of aphrodisiac for good measure.
Drill Pill Ingredients
While amounts are not revealed, the ingredients that make up the formula are.  They are:
Bombyx Mori which actually comes from the male silkworm moth which is apparently filled with minerals, amino acids, and nutrients and has been used in China for centuries as an aphrodisiac.
Wild Yam Root which helps keep hormones in balance and reduces the occurrence of prostate problems.
Siberian Ginseng which boosts energy.
White Willow Extract which helps increase blood flow and reduce inflammation.
Jujube Extract which fights weakness and fatigue.
Cayenne Extract which improves circulation.
Stinging Nettles Extract which increases free, unbound testosterone levels.
Where to Buy
If you're interested, you can purchase Drill Pill in a couple different ways.  The easiest to find is the "free trial" method.  For this, you sign up for a trial bottle.  Starting 10 days after your initial order is placed, you will be enrolled in their monthly shipping program and charged $94.98 per month for the pleasure.  This important information about the monthly program that you're signing up for is buried in the 7th section of the Terms and Conditions page that you have to purposefully click on in order to get to.
Alternatively, you can purchase a 1 pill sample for $9.99 or a month's supply for $49.99.  A guarantee is mentioned, but the terms are not disclosed.
Drill Pill Benefits
It's got a great name.
The ingredients are all natural.
Drill Pill Drawbacks
The formula is pretty weak when it comes to enhancing blood flow.
The free trial is deceptive and vastly overpriced when you compare it to buying Drill Pill outright.
We found no Drill Pill reviews from customers letting us know how it works for real guys.
Recommendation
Even with a name like Drill Pill, this product couldn't overcome the problems introduced by the deceptive free trial offer.  If it's such a great deal, the terms should be out front, not buried.  There are better options, and I'll be going with those.
Check Out Our Top Choices in Male Enhancement
Leave Your Review of Drill Pill Below