M Drive Elite Overview
Editors Rating:

M Drive Elite takes the basics of natural testosterone boosting and jacked them up to provide and overall athletic performance enhancing supplement that takes your game to the highest level.  That's the promise, and it's our job to separate that promise from the truth.
Made by Dream Brands, M Drive Elite is actually the follow up version to their already popular M Drive, which is a vitality supplement for men. The Elite formula claims to activate every source of energy in your body to put you at your peak and allow you the competitive advantage you need.  They make it very clear that M Drive Elite is not for the ordinary weekend warrior.  This stuff is only for serious athletes who make a solid commitment to their sport as well as their bodies.
M Drive Elite Ingredients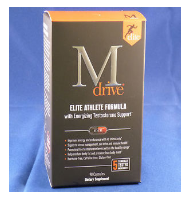 The M Drive Elite formula starts out what they call Cordydrive.  It's a blend of ingredients designed to provide serious revitalization for already healthy men.  It includes components like Cordyceps which is a mushroom used for energy and vitality, Maitake which supports cardiovascular and immune health, Maca which promotes mental clarity, Ginseng which builds strength, and Damiana which oxygenates the blood supply, giving your more energy.
Additionally, you'll find Fenugreek Seed for an increase in Testosterone production and  Ashwagandha for sustained energy.
The M Drive Elite formula is also packed with Vitamins (D3, B6, B12) and Minerals (Selenium, Zinc, Chromium) that provide the basis for good health and strong energy and metabolism.
How M Drive Elite Works
The recommended dose is 3 M Drive Elite capsules daily. If it's a workout day, take it shortly before your workout.  If not, take it in the morning.  You'll see a steady improvement in your energy, endurance, strength, and recovery over time.
M Drive Elite Benefits
The ingredients are all natural.
All the M Drive Elite reviews we've seen have been very positive, talking about getting good results in terms of energy and recovery.
It's readily available online and at GNC.
M Drive Elite Drawbacks
Where to Buy M Drive Elite
You can purchase M Drive Elite online or in GNC stores.  The 90 capsule bottle will last you a month.  At GNC, it costs $79.99.  On the product website, it comes in much lower at $59.99.  I haven't been able to find any information regarding a money back guarantee.
Recommendation
Everywhere I look, the reviews from guys who've used M Drive Elite are recommending it highly. Looking at the formula, I'm not sure what it is.  It looks decent, but to me, not as good as the reviews would have you thinking.  But I'm going to have to defer to the guys that have used M Drive Elite.  If you're looking for a top performing testosterone booster for the athlete in you, go ahead and give this a try.
My Top T Booster Choice – Testofuel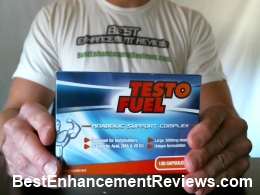 I have tried dozens of supposed all natural testerone boosters, and most of them just plain suck.
It's refreshing to finally come across one thatACTUALLY works for a change.
I recently got a chance to test out a 3 month supply of Testofuel, and my results were awesome.
Click Here to read my full review of Testofuel.
Leave Your Review of M Drive Elite Overview Below