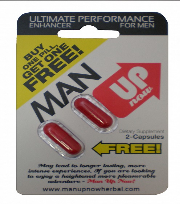 Editor Rating

Rated 1.5 stars

Bad
---
Man Up Now

Reviewed by:

Published on:

Last modified:
---
I thought Man Up now was a product that was banned by the FDA, but walking into a local gas station convenience store one day low and behold I saw a blister pack for the product right by the register. I decided to buy the pack, which contained 2 soft capsules, and "experiment" with the product to see what the fuss was all about.
What was funny is they say "buy one get one free" yet that is your only option, you can only buy a pack that contains one. What was even more annoying was that it cost $7.99 for these two pills, making it very expensive. But in the interest of helping you guys out, I decided to try it out.
1. What is Man Up Now?
Man Up Now is a fast acting male enhancement supplement designed to get you up fast, and keep you going for hours. Originally I thought that the product was unavailable for purchase because the FDA had issued a warning because of it, but apparently the company didn't get that memo.
If you go on their official website, you can buy various quantities of Man Up Now at somewhat reasonable prices, however, this is a product you only need to take as needed.
2. So What Makes Man Up Now Work?
Well, since it is an all natural formula, obviously you don't need a prescription to try it out, and it only contains herbal ingredients. Well, that's what they promise, but according to the FDA it actually contains sulfoaildenafil, which is similar to sildenafil, the active ingredient in Viagra.
Despite this fact, the ingredients listed on the label do not say this. What was surprising was that the ingredients in Man Up Now are not your traditional run of the mill ingredients. They include:
Fructus Licii
Rhizoma Polygonati
Semen Ziziphi Spinosae
Flos Caryophylii
Cortex Cinnamomi
Semen Allii Tuberosi
I actually have not personally heard of any of these ingredients, so I decided to do a little bit of research, especially because two of them contain the word "semen" (doesn't sound very appealing, does it?).
What was very interesting was that, throughout my research, I did not find that one of these ingredients has been used as an all natural aphrodisiac at all. Cortex Cinnamomi apparently treats kidney problems. Fructus Licii, otherwise known as wolfberry, is usually marketed as a goji berry juice which is supposed to help prevent certain types of cancer.
I could hardly find any other credible information for any of the other ingredients in Man Up Now, and none were stated to act as an all natural male enhancement supplement. We also searched far and wide for reviews of Man Up Now, but surprisingly we did not find any on their official site, or on independent third part sites.
3. FDA Recall of Man Up Now
In December of 2010, the FDA announced a warning of all Man Up Now products, as testing showed that the product contained an undisclosed ingredient called sulfoaildenafil, which is similar to the active ingredient in Viagra.
This warning is not a recall, hence the reason why the product is still sold in stores. We had originally sent out an email to a company that owns the domain buymanupnow.com and asked them if they still use sulfoaildenafil in their product, but they responded that they were not the manufacturers and we had to bring it up with them. Unfortunately, we could not find any contact information for the manufacturers of Man Up Now.
4. Our Results With Man Up Now
While the package contained 2 pills, I decided to try just one to see what kind of effect it would have. I waited about a half hour or so, and after I didn't feel anything, I decided to "take the plunge" and take the second pill.
And then it hit me about 20 minutes later!  I got really horny, really fast, and my guess is that the FDA is probably right, Man Up Now seems to work exactly like Viagra.  I got the usual sensation of a tingling heartbeat, slight tightness in my chest, and a somewhat irritated feeling.
But I have to be completely honest, Man Up Now gave me one great boner.
5. Where To Buy Man Up Now
Man Up Now is found in all of your finest gas stations across the US, and we happened to find it in a Mobil gas station.  If you go to their official site you will see that you can order a 24 ct. supply for $42, which is pretty expensive for a male enhancement pill.  Believe it or not, there are a number of online retailers that sell Man Up Now, but they tend to sell it at drastically different prices.  Sears.com even sells it, albeit for a ridiculously high price of $64.
6. Recommendation
Through personal testing, a thorough review of the ingredients, the lack of consumer testimonials, and the fact that the company was caught injecting dangerous ingredients into their product, it's hard to recommend Man Up Now.  Sure, it worked really good to get and achieve an orgasm, but at what expense?  We feel that male enhancement products that do not totally disclose their ingredients, or fall under any scrutiny by the FDA, should be totally avoided at all costs.  I would recommend you look into other alternatives when thinking about trying any supplement.
Leave Your Review of Man Up Now Below
Looking For A Bigger Penis?

Click Here To See My Top Choice