Muscle Rev Xtreme Overview
Editors Rating:

Getting a lean, ripped, muscle bound body is hard work.  Everyone knows this, but not everyone is willing to commit to doing what it takes.  That's one of the reasons why bodybuilding supplements are so popular, especially around New Year's Resolution time. But the truth is, even guys who are completely committed to doing everything it takes use supplements because they know that they can provide an edge they can't get from diets and workouts alone. The tricky part, of course, it picking the right supplement.
Muscle Rev Xtreme is a relatively recent entry into the bodybuilding supplement market. While most bodybuilding supplements belong to sub-categories like pre-workout or post-workout, Muscle Rev Xtreme is an all around product.  They say it provides all you need to get that lean, ripped, bulked up look you've been salivating over.
How Muscle Rev Xtreme Works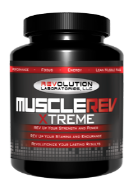 The basic principle of Muscle Rev Xtreme is that it combines powerful fat burning with extreme strength building.  With these two forces working on your body simultaneously, you end up with the strong, sculpted body you need.   Using thermogenics to eliminate fat and strength boosters to build muscle, you'll see noticeable results in just 14 days.
And there's a huge side benefit as well.  Muscle Rev Xtreme helps increase testosterone levels in your body. While this helps improve muscle tone and firm up flabby areas, it also helps boost libido and strengthen your erections.  So not only are you fit and successful in the gym, but it extends to the bedroom as well!
Instructions for use are to take 2 capsules twice per day.
Muscle Rev Xtreme Ingredients
I was happily surprised to see the Muscle Rev Xtreme label presented on the web page. This is highly unusual for products in this category, and it's great because it allows us to see just what goes into the formula to make it work (or not work).  The ingredient list includes:
Vitamin C, Folic Acid, and Calcium for general health and well-being.
L-Citrulline which supports optimum blood flow to your muscles during workouts.This ensures that your muscles are getting the oxygen and nutrients it needs for maximum results.
Lovage Powder for reducing pain and swelling from overuse of muscles and joints.
Coenzyme Q10 which improves blood flow.
L-Taurine and L-Norvaline which are two additional amino acids that help increase muscle mass.
One thing to note is that any specific fat-burning ingredients don't appear to be in the formula.
Where to Buy
The only way I am aware to purchase Muscle Rev Xtreme is through the free trial offer available online.  You pay only shipping for a month's supply.  If you like it, you do nothing and you are automatically signed up for receiving a new monthly supply at the full monthly price of $84.63 for 3 or 6 months depending on the term you choose.  This is actually a little better than most of these products, as they keep the automatic shipments coming indefinitely.
Muscle Rev Xtreme Benefits
Muscle Rev Xtreme Drawbacks
It's expensive.
Muscle Rev Xtreme claims to burn fat, but doesn't have any ingredients that actually do that.
It's only available through the free trial offer.
Recommendation
While I almost admire Muscle Rev Xtreme for changing up the whole free trial system to make it a little less heinous for people who unwittingly get caught up in it, overall I see know particular reason to go with Muscle Rev Xtreme instead of a more reliable and tested product.
My Top Pre Workout Choice – Nitrocut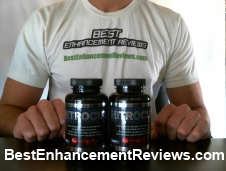 I've been a pretty avid weight lifter for most of my life, and I'm always looking for something to give me that "added edge."  I've tested dozens of different pre-workout supplements over the years, and wanted to share my personal review of Nitrocut.
Nitrocut is a leading stimulant-free pre workout supplement that works through the use of all natural ingredients, including the popular L-Arginine.
Click Here to learn more about Nitrocut in my review.
Leave Your Review of Muscle Rev Xtreme Below