Muscle X Edge Overview
Dave's Rating: 

Muscle X Edge is a bodybuilding supplement marketed to the guy who wants to get lean and ripped, and is ready to enact a program of diet, workout, and supplementation to get there.  It's a pre-workout supplement that provides you with:
Better fat burning
Increased energy and endurance
Better pumps
Faster muscle recovery
Improved Sexual Performance.
How Muscle X Edge Works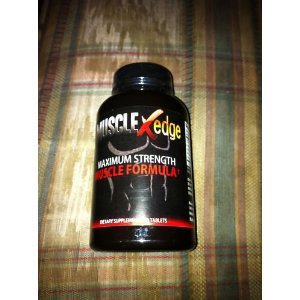 Muscle X Edge is basically a nitric oxide supplement.  It helps naturally increase the levels of nitric oxide in your body. Nitric Oxide relaxes your blood vessel walls allowing more blood to flow through.  This has all sorts of positive effects because blood delivers oxygen and nutrients to your muscles and throughout your body.  So you feel better, workout better, recover faster, and even get better erections (because more blood to the penis is what better erections are all about.)
It is commonly paired with an hgh supplement called Sytropin, however, we could not find any indication that combining muscle x edge with Sytropin would produce any significant results.
Muscle X Edge Ingredients
The Muscle X Edge formula is all about nitric oxide building blocks:
A-AKG increases secretion of nitric oxide.
A-KIC restores energy lost during workouts which will help with stamina and endurance.
OKG is an essential amino acid that supports building factors and thereby athletic performance.
GKG strengthens cells fro better stamina and overall performance.
Where to Buy Muscle X Edge
Muscle X Edge is only available online and only through a free trial offer through Muscle X Edge and its affiliates.  You order a month's supply and pay only shipping and handling up front.  If you don't cancel within the designated amount of time (usually 14 days from the original order date), you'll receive a new bottle each month and your credit card will be charged, in this case $69.99.
Muscle X Edge Benefits
Your order comes with a free workout guide
Muscle X Edge Drawbacks 
There have been complaints about Muscle X Edge and the company regarding the deceptive nature of the free trial offer. The terms are in the fine print and many customers have been taken advantage of.
It's expensive.
There are no positive Muscle X Edge reviews from guys who've actually used it.
The ingredient list is incomplete.
There is no clinical evidence to support its claims.
The Final Word 
We've seen enough supplements to know the difference between a legitimate company making a quality product and a fly-by-night operation looking to make a quick buck in whatever way they can.  Muscle X Edge falls into the latter category.  Any supplement that relies on deceptive free trial offers to lure and trap customers can't be very good on its own merits
Check Out Our Top Choice For Pre-Workout
Leave Your Review of Muscle X Edge Below