NO2 Extreme Rush Overview
Dave's Rating:

How would you like:
Maximized muscle growth?
Stronger muscles?
Endless endurance?
Lightening-like recovery speed?
Do any of these sound like something you'd want?  Well these are what NO2 Extreme Rush claims to offer.  It's a workout supplement that, judging from their website, has taken the bodybuilding community by storm.  And if you're at all serious about your body, you should be taking this.
Well that's what they say, but I find it curious that I can't find any information (or even discussion) on this product at any of the bodybuilding forums or communities I visit and belong to.  If this stuff is so popular, why is no one talking about it.
We'll get back to that question before we're through today, but for now, lets shift gears and talk about how NO2 Extreme Rush works for you. 
NO2 Extreme Rush Ingredients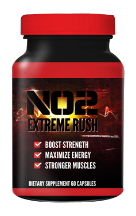 We were very happy to see that the ingredients list for NO2 Extreme Rush was made readily available by the company.  It includes:
Arginine Alpha-Detoglutarate (A-AKG) which increases blood flow to muscles.
Ornithine Alpha-Ketoglutarate (OKG) which increases strength and boosts muscle recovery.
Arginine Ketoisocaproate (A-KIC) which prevents muscle breakdown after tough workouts and increases stamina.
Glutamine Alpha-Ketoglutarate (GKG) which boosts energy and helps you build muscle.
How NO2 Extreme Rush Works
You take NO2 Extreme Rush as a pre-workout supplement, and it helps nourish your muscles with oxygen and nutrients so you can go hard and get amazing pumps.  After workouts, it helps speed muscle recovery.
NO2 Extreme Rush Benefits
All the ingredients are listed.
There's a money back guarantee.
There are positive testimonials on the website.
NO2 Extreme Rush Drawbacks
It's expensive.
The website claims are over the top.
The free trial offer is deceptive.
Where to Buy
In order to purchase NO2 Extreme Rush, you need to order their "free trial".  This means that you sign up for a months supply at only the cost of shipping.  From there, if you like it, you do nothing.  But if you don't like it, you need to cancel within 14 days from the order date.  Otherwise, you'll be charged $89.92 for the original bottle, and an additional $89.92 plus shipping each month until you do finally cancel.
Conclusion
Overhyped products like these are all over the internet these days.  We don't really know if NO2 Extreme Rush has any intrinsic value to bodybuilders.  All we know for sure is that the only information we have is what we get from the heavy-handed website.  (Nothing from within the bodybuilding community.)  This is not reason enough to potentially spend this kind of money.
Check Out Our Top Choices in Pre-Workout Supplements
Leave Your Review of NO2 Extreme Rush Below