Optimal Stack and Sytropin 9 out of 10 based on 24 ratings. 5 user reviews.
Optimal Stack and Sytropin: Should you take them together?

"Stacking" or taking two different supplements at the same time is gaining popularity, and if you frequent bodybuilding websites or forums, you have probably read about some incredible results. Now the question is, do these various combinations of pills work?
We previously reviewed one commonly used "stack," Optimal Stack and Muscle X Edge. Our findings were mixed. Both products do include a number of ingredients that have been shown to increase blood flow and promote higher levels of growth hormones. They mixed these amino acids with caffeine to give you an energy boost. While this might sound exactly what you are looking for, remember that your body can only absorb so much of these compounds at any one time. So double dosing Optimal Stack and Muscle X Edge might not be the best combination.
What about Optimal Stack and Sytropin?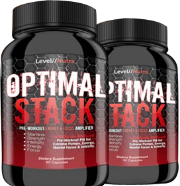 Upon initial review, mixing these two supplements does make more sense. Optimal Stack and Muscle X Edge contain many of the same ingredients, so you are just double dosing and probably excreting whatever your body cannot absorb. But Sytropin is marketed as a "high releaser," a product that supposedly rechargers your body's natural HGH production. Never heard of "high releasers?" That's okay.
The manufacturers of Sytropin, S peedwinds Nutrition Inc., are massaging their supplement with a little marketing language because Injections of artificial human growth hormone (HGH) is expensive and banned without a prescription, so Sytropin claims to circumvent these problems by stimulating your body's own production of natural HGH. It isn't adding any HGH to your body; it only claims to help your body produce more growth hormone.
So when taken with another supplement like Optimal Stack that supports muscle growth and gives you more energy, Sytropin should supercharge your workout by giving you more natural HGH. But does it really do this? Well, that's where the research gets fuzzy. Sytropin relies heavily on amino acids and makes some fantastic claims about what they can do once they are ingested. Amino acids are the basic building blocks of muscles and other tissues, and while some of Sytropin's ingredients, like L-Arginine, have been shown to increase blood flow and promote muscle growth, others have not.
Other Ingredients in These 2 Products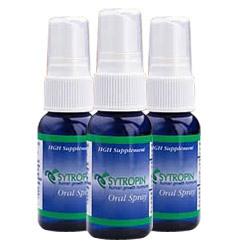 Those questionable ingredients include gamma-aminobutyric acid (GABA), glutamine, L-dihydroxyphenylalanine (L-DOPA), moomiyo, or shilajit, andornithine alpha ketoglutarate. GABA is often taken to promote lean muscle growth, but according to webmd.com, there's insufficient evidence supporting its effectiveness.
Glutamine is given to HIV patients for treating weight loss, but studies conducted on athletes have shown that the supplement failed to enhance exercise performance. L-DOPA is converted into dopamine once ingested and for that reason, it is often used to treat Parkinson's disease, but, and this is a doozy, the side effects include hypotension, nausea, hair loss, disorientation, and more.
Moomiyo is a substance found in the Himalayan Mountains thought to have medicinal properties; however some companies sell fake Moomiyo. Studies performed on mice have shown that it does have anti-inflammatory, anti-aging, and anti-anxiety properties, among other benefits. The final ingredient, OKG, is prescribed to burn patients to facilitate healing, but there's little evidence to suggest that healthy athletes reap any benefit from taking it as a nutritional supplement.
The Bottom Line
One ingredient found in both Optimal Stack and Sytropin is beneficial, but most claims made about the other ingredients are unsubstantiated. L-DOPA, in particular, is associated with serious side effects.
Should you decide to use both of these supplements together, tread carefully and monitor your body's response. Sytropin may promote higher HGH levels in certain people, but there's little to no empirical evidence that conclusively shows it can naturally raise your body's HGH levels.
The best advice is to probably just take one of these products at a time and determine if they are effective. Sytropin has a 90-day trial period, and Optimal Stack also offers a free trial period.
See Our Top Choice For Effective Muscle Building
Leave Your Review of Optimal Stack and Sytropin: Should you take them together Below