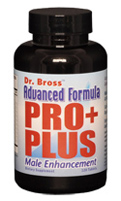 Editor Rating

Rated 1 stars

Really Bad
---
Pro Plus Pills

Reviewed by:

Published on:

Last modified:
---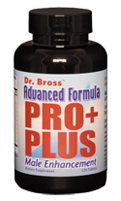 While recently flipping through a Maxim Magazine, we came across some ads in the back about male enhancement products. One such product was called Pro Plus Advanced Formula, which was designed by none other that Dr. Joel Bross, founder of the previous pills he used to sell called Maximum XE. With this new formula, he is again claiming that you can gain up to 5 inches longer in penis size in a matter of months. Really, 5 inches? Well, we wanted to find out if this was the case, so we conducted out own independent investigation to get to the
bottom of it.
1. What is Pro Plus Advanced Formula?
Designed and manufactured by a company called Avid Medical, pro plus promises harder erections, and permanent enlargement through the use of their pills. According to various sources, including the official website, was featured on the show 20/20, but we could not find any evidence that it was. They also claim wild size increases, and that they guarantee results in 60 days or less. While we don't agree with the size claims, we do agree that some of the ingredients in pro plus pills do have the ability to temporarily increase pleasure, and allow you to satisfy your partner.
Pro Plus is supposed to give you rock hard erections, enhance your sexual libido, give you a faster recovery time, and increase your penis size by up to 5 inches. The ingredients in this product include yohimbe, ginseng, saw palmetto extract, horny goat weed, and gingko. It should be noted that yohimbe can cause great side effects and should be used with caution.
After investigating the ingredients, we found that they are not much different from either the original formula, or that of maximum xe. The full list includes yohimbe, which is potentially dangerous, ginseng, ginkgo biloba, and a few other mild aphrodisiacs which were found in the original.
With the addition of this advanced formula, it appears that they also use l-arginine, which has been proven in recent studies to help the blood vessels dilate, allowing for increased blood flow. (See related l-arginine study) Rounding out the list of ingredients, they also have Catuaba bark extract, horny goat weed, and pygeum africanum, which has been used to treat BHP, or benign prostatic hyperplasia.
2. User Feedback
We searched around for reviews from men who have used pro plus, but it appears that there is another product sold under the same name that is a caffeine pill. There are a couple of testimonials that talk about the effects of the aphrodisiac, and this is what they had to say:
"After trying several different male enhancement pills, I was about to give up before I found the advanced formula. I gotta say, I had no effect in size at all, but it definitely did help with my erection quality. I really don't know where they get these claims that it increases your penis size 5 inches, because I took them for about 3 months and didn't even gain a half inch. Would recommend it as a pleasure pill though."Phil, Georgia
"they offer a money back guarantee which sounds great, but they don't tell you that in order to get that money you have to go before a notary public and swear out a statement that you have a tiny dick and nothing has made it bigger– not only embarrassing, it costs more money to do the paperwork than you've probably spent on the pills"
Yahoo answers review
3. Video Reviews, Pricing, and Where To Buy
After a brief search on youtube, we could not find any video testimonials from anyone using pro plus. They do have some racy photos on their site depicting men that have use it, and show before and after photos outlining their success. Their is no way to determine that these photos are real, other than taking the companies word for it.
All in all, we could only find this supplement for sale on a few websites, including Amazon.  However, the best price you'll find is on their official site at $210 for a years supply, however we are not sure how useful a years supply is.  According to a chart on their site, maximum gains are achieved after just 60 days usage of pro plus, and if the results are indeed permanent, then there would be no need
to order a quantity larger than 2 months.
4. Pro Plus Pills Vs. VigRx Plus
There is alot of talk on Dr. Bross's about VigRx Plus as opposed to his pills. He claims that VigRx plus is an inferior product, but what he doesn't say is the lack of ingredients his product contains when they are stacked up against one another. VigRx plus is practically one of the only products on the market that actually spent $500,000 on a clinical study outlining the progress men had with their product.
5. Official Conclusion
We highly recommend you stay away from this substance for a variety of reasons. For one, male enhancement through the use of an herbal pill only is impossible, and has been proven. The claims that you can grow 5 inches in 60 days, and do it permanently, are not only false advertising, but could be potentially dangerous. Their are effective ways to increase your size by using Size Extender's such as Proextender or Vimax System, but it can only be done through consistent and persistent action.
Leave Your Review of  Pro Plus Advanced Formula Below