Pro7ein Synthesis Overview
Dave's Rating: 

 To a lot of people, protein is protein.  Just find something you can stomach in terms of both taste and cost, and that's all you really need to concern yourself with.  But that's not true for everyone, and for good reason.  Some proteins just don't digest very well, or they take too long, the powder just doesn't have enough actual protein in it, or it's got too much other stuff, like sugar and carbs.
Pro7ein Synthesis is made by VitaSport and its exclusively sold at local Nutrishops. Some guys don't want to use a blend.  The website gives you 7 reasons why you should use this particular blend:
A container contains 57 servings.
A serving has 34 grams of protein.
It's enhanced with Aminogen (more on this later).
It increases lean muscle mass.
It decreases body fat.
Pro7ein Synthesis employs a sustained release formula.
Pro7ein Synthesis Ingredients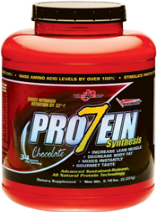 Pro7ein Synthesis chooses to use the 7 different forms of protein they think are the most effective when it comes to building and repairing muscle. It's got Cross-Flow Microfiltered Whey Protein Isolate,Hydrolyzed Whey Protein Isolate, Whey Protein Concentrate, Hydrolyzed Casein, Potassium Caseinate, Micellar Casein, and Egg Albumin. According to Pro7ein Synthesis, this is the perfect combination of protein without added useless filler proteins.
Pro7ein Synthesis also has BCAAs and all theEssential Amino Acids for muscle recovery and to prevent breakdown.
Then there's Colostrum for its insulin-like growth factor.
The last important ingredient to mention is Aminogen which is a digestive enzyme that has been clinically proven to increase your BCAA level by over 250% and boost your nitrogen retention levels to stimulate protein synthesis and muscle growth.
How Pro7ein Synthesis Works
The blend of Whey with Casein may be the key to the effectiveness of Pro7ein Synthesis.  The Whey acts quickly, while the Casein takes longer.  That way, you get both immediate and sustained effects.
A serving size is 1 scoop, and the 5 lb tub has 57 servings.  Most Pro7ein Synthesis reviews we've seen seem to show that the flavor and mixability is good, though the Casein is a little bit tough to completely dissolve.  It comes in Vanilla or Chocolate and the flavor isn't something guys are raving about, but we haven't seen anyone complaining really either.
Benefits of Pro7ein Synthesis 
The fast acting and sustained synthesis is a big benefit of this blend.
It tastes good and mixes well.
It's got Aminogen which helps it work even better.
Most Pro7ein Synthesis reviews we saw were pretty positive.
The price is pretty in line with other protein blends.
Drawbacks of Pro7ein Synthesis
You can only get it at Nutrishops.
It's much more expensive than straight bulk whey protein.
Where to Buy
You can only purchase Pro7ein Synthesis at your local Nutrishop, if you have one.  The 5 pound tub usually goes for about $60 which works out to about $1 per serving.
The Bottom Line
Pro7ein Synthesis is a good solid protein product.  The biggest problem we see with it is availability.  Nutrishops are all over California, but lots of states don't have any.  If you have access to Pro7ein Synthesis, we think you should give it a shot.
Leave Your Review of Pro7ein Synthesis  Below