ProCalis-X Overview
Dave's Rating: 

The other day, a reader ask me to look into and review ProCalis-X.  It's what I do, so happily, I obliged.  One of the first things I noticed when I went to the website was a statement that statistics show that over 95% of people all over the world prefer ProCalis-X over other anti-impotence solutions.  Now I look at a lot of these products, and this just can't possibly be true.  What kind of "statistic" is that and where did it come from?  Was there a clinical trial?  A study?  A questionnaire?  A survey?  None of these is mentioned or cited, just the statement.
Well, I continued to research  ProCalis-X in spite of the silly statement.  Herbal male enhancement supplements tend to be marketing over-enthusiastically, so I decided to let it pass, though I kept it in the back of my mind as I moved forward.
What ProCalis-X claims in terms of benefits is pretty standard fare.  If you take ProCalis-X, you'll have :
Better, stronger, thicker, longer-lasting erections.
Heightened drive and energy.
Greater endurance.
How ProCalis-X Works
ProCalis-X is the kind of supplement you only take as needed. In this case, it's 2 tablets, dissolved under the tongue about 15 minutes to half an hour before sex.   The sublingual tablets get the active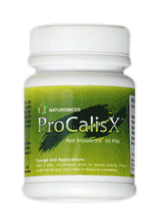 ingredients into your blood stream very quickly so they can get right to work.  What they do is improve  blood flow to your penis to support a strong, lasting erection, while providing an aphrodisiac effect as well.
ProCalis-X Ingredients
The formula is listed on the ProCalis-X website, though many of the main enhancement herbals are listed within a proprietary compound.  This means that while we know what's there, we don't know how much.
ProCalis-X is made of components like:
Niacin for that niacin flush you've heard so much about.
Ginkgo Biloba for energy and clarity.
Guarana for it's ability to give you energy(like coffee).
Saw Palmetto for its support of a healthy prostate.
And the proprietary part is made up of:
L-Arginine which is a precursor to nitric oxide which opens up blood vessels so more can flow to the penis during arousal.
Epimedium (aka Horny Goat Weed) which also helps improve blood flow to the penis.
Maca which is an aphrodisiac.
You are instructed to place two tablets under your tongue and allow them to dissolve about 15 minutes to a half hour before sexual activity.  You should not exceed 4 tablets in any 24 hour peroid.
Benefits of ProCalis-X
There is a 60 day money back guarantee.
It contains L-Arginine for better erections.
Drawbacks of ProCalis-X
The website makes false and misleading claims about how 95% of people prefer this product.
We found testimonials on the website, but no independent ProCalis-X reviews from customers.
It's on the expensive side.
There are no ingredients to address age-related dropoff of testosterone levels.
Where to Buy
You can purchase ProCalis-X through one of a couple different online sources.  There's the official website, several affiliates, and a couple of independent stores selling it.  The one month supply sells for $69.95, though there are other packages that will save you money if you buy in bulk.  There's a 60 day money back guarantee as well.
Recommendation
ProCalis-X ain't bad.  But it ain't great either.  I think you can find plenty of comparable products for quite a bit less.  Add in the crazy marketing scheme, and I doubt that ProCalis-X is something you would need to try.
Leave Your Review of ProCalis-X  Below