Prulato Overview
Dave's Rating: 
At a certain age, certain things start to happen to a man's body.  Erectile and prostate health tend to decline.  Prulato is made by Vianda (formerly known as Berkeley Premium Nutraceuticals) to help stem that tide.  According to the website, daily supplementation with Prulato will help you rediscover the pleasure you had when you were younger, and it was just plain easier.
How Prulato Works
As you mature, your supply of certain male hormones starts to dwindle, and you lose some of the sexual vitality you once had. Your partner may not appear to notice, but you do.  By taking Prulato, you restore your Peak Erection Quality (PEQ) by improving blood flow throughout your body, while you also support the health of your prostate.   And you take it daily, so you feel better and can be ready anytime.
Prulato Ingredients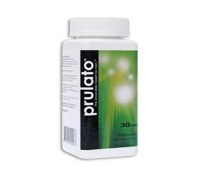 The formula is proprietary, but the ingredients you'll find are:
Zinc, which is involved in many chemical reactions in the body, including the production of testosterone.
Saw Palmetto Flower Pollan Extract which support the health of your prostate.
Korean Red Ginseng which improves blood flow.
Ginkgo Biloba which provides energy
Lycopene and Grape Seed Extract which are antioxidants to protect cells and tissue from damand.
Benefits of Prulato
The ingredients are all natural.
It's affordable.
It focuses on prostate and overall reproductive health.
Drawbacks of Prulato
We found no Prulato reviews from customers so It's tough to tell how customers are liking it.
It doesn't contains some of the best male enhancement ingredients.
Where to Buy
You can buy Prulato through the Vianda website or other online retailers.  The recommended retail price is $39.99, but we've seen it for much less elsewhere so you'll definitely want to shop around.
Recommendation
Prulato is a decent daily supplement, but nothing we'd say you should write home about.  If you're concerned with maintaining your prostate health (and nothing is currently wrong) we'd say go ahead and try it.  But if you're in the market for a standard male enhancement supplement, I'd do with something a little more conventionally targeted.
Leave Your Review of Prulato Below