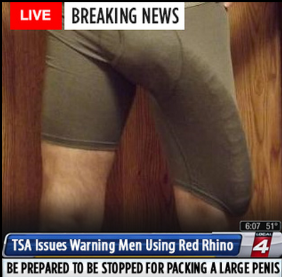 Editor Rating

Rated 2 stars

Poor
---
Red Rhino Pills

Reviewed by:

Published on:

Last modified:
---
It's no secret…every guy wants a bigger penis, and many have spent hundreds if not THOUSANDS of $$ trying out all of the latest fads being advertised in our faces everyday, only to be disappointed.  Once such product I recently stumbled upon (almost by accident) was a male enhancement pill called Red Rhino.
Like so many others I've tested before, Red Rhino promises EXTREME gains in penis size from just simply popping one of their pills.  But does it really work?  I decided to dig a little deeper and find out what "mystery" surrounded this brand spanking new penis pill.
1.  What is Red Rhino?
So I originally learned about Red Rhino when I was "researching" on some porn sites for some new products to write about.  I was on porn hub for about 5 minutes when I came across an ad which screamed the headline "TSA issues warning for men using Red Rhino.  Be prepared to be stopped for packing a large penis."  It's pretty clearly a joke (I'm assuming the TSA doesn't worry about guys with big dicks), but I can only imagine the look on the female TSA agents face when she see's what appears to be a very large snake inching around in some guys pants…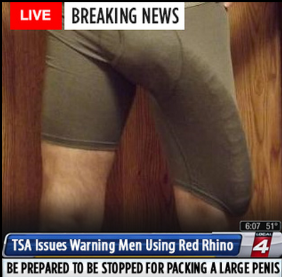 So, my curiosity was sparked and I just had to click the ad.  It took me to a page called "Danny D's porn star secrets revealed", starring none other then, well….Danny D.   If you're unaware (which I was too), Danny D is apparently one of the biggest names in porn, and has dozens of films "under his belt" for lack of a better phrase.
A video starts to auto-play with Danny welcoming us to his blog, telling us he has the insider scoop on which male enhancement pills really work, and which are a waste of money.  If you browse through "his" site you'll find reviews for 100 products, and when I say reviews I really mean just star ratings.  (Related:  Do porn stars use male enhancement pills?)

Danny D doesn't tell us about how the other products worked for him, it just has a short blurb about the ingredients of the pills, how they're supposed to work, etc.
So anyway, back to Red Rhino…WTF is it??
Well, according to Danny D, Red Rhino is the best pill he's ever tested.  He doesn't detail his results as far as how long it took for it to work, or whether or not it gave him permanent results.
So what's in it that makes Red Rhino so effective?  Well, they list the primary ingredient as being l-arginine, which is an amino acid that boosts the production of nitric oxide.  This process is known as vasodilation, and essentially what happens during it is the smooth muscle tissue surrounding the penile chambers relax, allowing for increased blood flow during erection.
Pharmaceutical drugs like Viagra do the same thing, just through the use of chemical substitutes rather then all natural ingredients.  I have used alot of products containing l-arginine and can attest to its relative effectiveness. (Related:  Learn more about how L-Arginine works in male enhancement supplements.)
Red Rhino also contains a few other ingredients, including Tribulus Terrestris (a testosterone booster), Maca, Ginseng, Zinc, Muira Puama, tongkat ali, Oat Straw extract, and many others, although the exact amounts are not listed on their official site.
2.  Frequently Asked Questions
3.  How does it work?
They detail this pretty heavily on the pills main site, but I'll touch on it briefly here.  Supposedly, Red Rhino is supposed to help boost your testosterone levels all naturally, and it does this through the ingredients mentioned above.
If you're not already aware, having low testosterone can lead to a number of ailments such as fatigue and decreased energy levels, depression, a reduction in muscle mass and strength, and you guessed it…it can also cause erectile dysfunction.
Normally this doesn't start to affect guys until they hit 30 or so, as peak levels tend to top out in your mid 20's.  The premise behind using Red Rhino is that by increasing your testosterone naturally through the use of their product, you'll begin to see a "reversal" of these symptoms.
They also mention it will cause gains in both length and girth, but there's no mention of exactly how much size you can / will grow.
4.  Does it really work?
At the moment I'm not really sure.  I've used products containing L-Arginine, Tribulus, and many of the other ingredients they list with varying degrees of success.
I've ordered a bottle for testing purposes and will update this review within the next few weeks.
5.  How long does it take to start working?
They don't make this very clear on the website, but I would imagine it's a cumulative effect.  Essentially what this means is the best results with Red Rhino would be seen over the course of several weeks (or months).
6.  Does it have any side effects?
From the ingredients list I see, I would say likely not.  It doesn't seem to contain yohimbe (which has HORRIBLE side effects) or any other stimulants that can cause an adverse reaction.  (Related:  The side effects of yohimbe you need to know about.)
That said, really ANY supplement has the potential to produce side effects, so it's best to check with your doctor to be sure.
7.  Is it FDA approved?
No, and it doesn't need to be because it's an all natural over the counter supplement.
8.  Where Can You Buy It?
From what I can tell, Red Rhino is only available on their official website, and is not found in stores like Walmart, CVS / Walgreens, and GNC.  It's modestly priced when compared to some of the other male enhancement pills we've tested on the market, with a one month supply costing about $39.95.
They do offer a 100% 90-day money back guarantee, less shipping and handling fees.
9.  Recommendation
I can't really give you a conclusive answer on Red Rhino yet, as I haven't finished testing it yet.  One thing I can't seem to wrap my head around is whether or not it's a male enhancement or testosterone boosting supplement.  On the one hand they talk alot about how it will boost your testosterone, and on the other they talk about boosting Nitric Oxide.
But I will say this…I have personally taken close to 100 different male enhancement pills and NOT one of them have given me a permanent increase in size.
Is this one going to be any different??  Only time will tell…stay tuned for my updated review in a few weeks!
Leave Your Review of Red Rhino In The Comments Section Below!
Looking For A Bigger Penis?

Click Here To See My Top Choice