ReVitaMan Overview
Dave's Rating:

North Star Nutritionals is a company that makes lots of different nutritional supplements for both men and women.  Sexual dysfunction is one category of supplements they offer.  Until recently, they made a product called ReVitaMan, whose main purpose was to boost the libido and enhance the sexual performance in men who felt they needed it.  With millions of men experiencing temporary or permanent erectile dysfunction, there is definitely a market for such supplements.
North Star no longer makes ReVitaMan, but the product is still available through third party retailers with remaining inventory. So we're going ahead with our review so if and when you come across and opportunity to buy ReVitaMan, you'll now how to proceed.
ReVitaMan Ingredients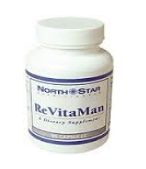 There are three primary ingredients in focus, and they are all South American aphrodisiacs.
Maca is from Peru, and has been used for centuries to boost the male libido. It also improves mood and energy.
Muira Puama is from Brazil and is an aphrodisiac that is also known to reduce stress levels.
Catuaba Bark, also from Brazil, increases sex drive as well as increasing the flow of blood to the penis.
The formula is rounded out with L-Argnine for blood flow, Ashwagandha for relaxation, and a host of vitamins and minerals for an overall improvement in general health.
How ReVitaMan Works
ReVitaMan is a daily supplement.  The ingredients build up in your system over time, and you begin to feel more generally and sexually energetic and revitalized within days and weeks.
ReVitaMan Benefits
It contains several aphrodisiacs.
ReVitaMan is affordable.
ReVitaMan Drawbacks
The manufacturer isn't making it anymore, so its shelf life is limited.
There are not enough ingredients addressing blood flow to have any real effect on erectile dysfunction.
Where to Buy
Though ReVitaMan is no longer available through North Star Nutritionals, you can find it on eBay for $20 a bottle.  That makes it one of your more affordable male enhancement options.
Recommendation
If your issue is with low libido and/or low energy, ReVitaMan is a good choice.  It's affordable and it contains a number of aphrodisiacs to address the sex drive issue and vitamins and minerals to make you feel more healthy overall.  If you need erectile help, you should go a different direction.  Of course there are also plenty of supplements to address all male enhancement issues.  One of those is probably your best choice.
Check Out Our Top Choices For Male Enhancement
Leave Your Review of   RevitaMan Below