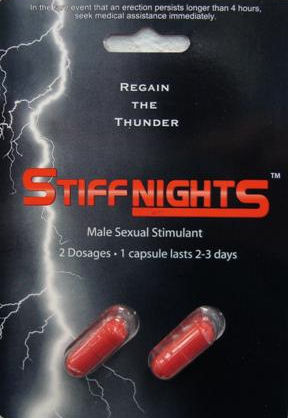 Editor Rating

Rated 1.5 stars

Bad
---
Stiff Nights

Reviewed by:

Published on:

Last modified:
---
Stiff Nights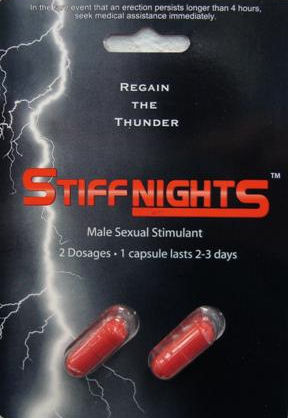 For those men looking to increase their sexual staying power, as well as their stamina and endurance, many have turned to a product called Stiff Nights. As one can probably infer from the name, stiff nights is taken as a dietary supplement to help aid in rock hard erections, and give you an overall enhanced experience in the bedroom. But is this supplement safe to take? We recently came across some FDA warnings about this product that you should know about. Read our independent review of this supplement before you decide to try it.
What is Stiff Nights?
Stiff Nights is a male sexual enhancing stimulant manufactured to allow you to "regain the thunder" as they say in their sales copy. It works to naturally increase the blood flow to your penis using a wide variety of ingredients including herbs, mushrooms, and greens.  It is a fast acting male enhancement supplement, which means it starts working in about 30 – 45 minutes, and comes on pretty strong.
Unfortunately, this product also contained a chemical compound called sulfoaildenafil, which is very similar to sildenafil which is found in some of the leading pharmaceutical products on the market. Since sulfoaildenafil is an ingredient regulated by the FDA, stiff nights is no longer available to sell their supplement because of the potentially harmful side effects associated with its use.
How Does It Work?
When it was regularly available, stiff nights promised to increase your recovery time after sex, allowing you to have sex more often and in greater duration. You would take 1 pill about 1 hour before sex to gain the best results, and it promised erections lasting as much as 48 hours.
Stiff Nights works exactly like zyrexin, another fast acting supplement which contains an ingredient called yohimbe, also a quite dangerous substance found in male enhancers.
The manufacturers actually offered a free sample of the product for a limited time, but this was discontinued when it was withdrawn from the market. Since this product was marketed as a 100% all natural one, it did not require a prescription and was available over the counter in many local drug stores.
Stiff Nights Reviews
"you take it, and then blood flows to the penis…the interesting thing that happens is, the only thing that happens is blood flows to the penis. All it does is give you a wood. All i got from using stuff nights was a hard penis."
iws99 review
"my head was pounding less than 2 hours after taking it. It gave me the worst side effects ever. It just gave me a hard on and that was it."
Rich, Texas
It seems to us based on the various reviews and testimonials we read that stiff nights actually does work to give you an erection. However, this product lacks the qualities you really enjoy in your sex life, like becoming aroused easier, as well as increasing your sexual vigor. To top it all off, it is mostly not available anymore and where it is available, we think the stores are selling it illegally to make up for lost revenues. We highly suggest you stay away from stiff nights, even if you can find it anywhere.
Click Here To See Our Top Choices For Male Enhancement
Leave Your Review of Stiff Nights Below
Looking For A Bigger Penis?

Click Here To See My Top Choice