VPX Black Pearl Overview
Editor's Rating: 
Some products focus on one thing and one thing only.  Take Viagra for instance.  The only thing Viagra does is help make sure you can get an erection.  It doesn't concern itself with your sex drive, your energy levels, your confidence, or your game.  It just makes erections.  And it's good at it.
Other products, like many herbal male enhancement supplements, try a more generalized approach.  They do offer benefits to your libido, your energy, and your confidence.  The good thing about this approach is that more benefits are better then fewer benefits.
The bad thing is that sometimes when a product stretches itself too thin, it ends up not being particularly good at anything.  This is something we kept in mind as we looked into VPX Black Pearl.
What Is VPX Black Pearl?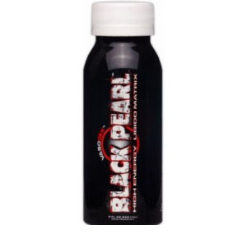 VPX Black Pearl is kind of a hybrid combining the effects of an energy drink with the benefits of a male enhancement supplement.  Oh and by the way, you can use it as a pre workout booster as well.  (See what I mean about multiple benefits?)  It's also unique in that it comes in a can, like Red Bull or other energy drinks.  So to list the potential benefits out clearly, we have:
·        Improved libido
·        Better erections
·        Jacked up energy
·        Testosterone boost
·       Increased vasodilation for better blood flow and more pumps during workouts
VPX Black Pearl Ingredients
Most of the ingredients in VPX Black Pearl are part of their proprietary blend which means that we know what's in it, but we don't know how much.  This blend includes:
·        Caffeine for energy.  It can also increase your mental awareness and clarity. It gives you the energy rush to push forward whether you're workout is taking place in the gym or in the bedroom.
·        Argninine Ethyl Ester which is a precursor to nitric oxide. This is used in most pre workout and male enhancement supplements for it's vasodilating effects.  It opens up blood vessels to allow blood to flow more freely through, especially to your extremities.  This means more blood to your penis during sex as well as more blood to your muscles during workouts.  In both cases, your body is getting blood to right where it's needed.
·        Vitamin C which can help you access the energy within you.  It's an antioxidant to protect cell damage, and it may improve mood as well.
·        Eurycoma Longfolia which increases the amount of free testosterone available for your body to use by binding itself to Sex Hormone Binding Globulin (SHBG) so SHBG can't bind itself to testosterone molecules.  The more free and available testosterone you have, the greater your energy, strength, sex drive, and athletic performance will be.
·        Icariin which improves blood flow.
·        Yohimbe which improves blood flow, increases energy, and boosts sex drive.  Yohimbe is a controversial ingredient. The FDA has issued an recommendation against using it.  It has a tendency to cause side effects like headache, nausea, jitters, and dizziness.  In some cases, the side effects can be severe and dangerous, like an immediate and big drop in blood pressure.
·        Cnidium Monnieri which is an herbal aphrodisiac.
How To Use VPX Black Pearl
A serving size is one can of VPX Black Pearl, but the strong recommendation is that you start out with ½ a can and see how it goes.  It's pretty strong so lots of guys never up their dose to the full can.  After shaking well, drink your ½ or whole can with food so it doesn't make you feel nautious.  When you take it is up to how you want to use it. If it's for sexual performance, take it about 30 minutes before activity.  If it's for workouts, take it about 30 minutes before hitting the gym. If it's for daily energy, take it when you need it.  You should not, however, take it within 4 hours of trying to go sleep.  VPX Black Pearl will keep you up.
About VPX
VPX is the company that makes VPX Black Pearl.  They are a sports nutrition/performance beverage manufacturing company started back in 1993 by Jack Owoc.  Their philosophy is that bringing the most meticulously developed and highly researched products to their customers will keep them coming back. To that end, VPX funds numerous university studies, maintaining their position as a leader in the industry.
VPX Black Pearl Side Effects
VPX Black Pearl contains caffeine, and because it's part of a proprietary formula, we don't know how much.  That's too bad because people tend to know how much caffeine they can and cannot handle.
As a result, some people have experienced the negative side effects of too much caffeine when taking VPX Black Pearl.  This is likely a result of combining VPX Black Pearl with other caffeine sources and unknowingly going over their personal limits.
VPX Black Pearl comes with a warning that it's not to be used by anyone with a family history of a long list of conditions including heart disease, diabetes, thyroid disease, high blood pressure, depression, glaucoma, seizures, and many more.
VPX Black Pearl Reviews
The overwhelming majority of customer reviews for VPX Black Pearl are very favorable, and they come from many different sources, which tends to add to their believability.  Most guys seem to use it as a pre workout drink, though some choose it for the sexual benefits as well:
"For the energy it was great!  I lasted 1 hour 30 minutes non-stop lifting and I didn't feel exhausted after my workout."
"Good pump all around."
One women writes about her boyfriend who'd lost his libido due to illness:  "I bought him Black Pearl and he only drank half and wanted sex a few hours later… The next day he drank the second half and informed me he masturbated twice while I was at work."
Where to Buy VPX Black Pearl
You can purchase VPX Black Pearl through lots of online retailers.  You can get a 4-pack for $11.  That should last you just over a week if you drink half a can each day.  I've also seen the 24 pack (about a month and a half's worth) for $50 at Bodybuilding.com.
Recommendation
Depending on what you're looking for it to do, VPX Black Pearl could be right for you.  It's most popular as a stimulant bases pre workout, and guys seem to love it for that, especially if you're someone who doesn't like to take pills.  Though it seems worth trying as a sexual performance enhancer as well.  As long as stimulants don't bother you, and you take it slow at first, VPX Black Pearl could be a good choice for you.
Leave Your Review of VPX Black Pearl Below!