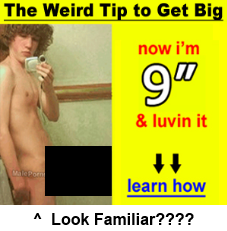 Editor Rating

Rated 5 stars

Spectacular
---
Porn Star Tips

Reviewed by:

Published on:

Last modified:
---
Weird Trick That Porn Stars Use?  Most Likely NOT…
There are a ton of ads spewing out across the internet about some weird tip that porn stars are using to help increase the size of their penis, making it permanently bigger. As you may already know, I am a huge skeptic of claims like this, and I find it kind of comical when I read these supposed "stories". So do porn stars really have some secret tip they use to increase their penis size? Most likely not, and here is why.
The Claim 
So the claim usually goes like this…some guy met some guy (at a bar, college frat party, whatever) who claimed he was a porn star and banged a million girls. So, as they get drunk and talk about their conquests, the naive narrator of the story asks "hey, how did you get such a big penis?" Not willing to tell his secret upfront, the narrator orders a couple more shots to get him talking.
Reluctantly(and no doubt hammered at this point), the porn star says he used some combination of supplements to help him gain 2, 3, or even as much as 4 inches. The names of the alleged "porn star" are never released, so you are left to guess who it could actually be. The combinations are never ending….some of the most recent ones I have seen are testoforce and xength x1, sytropin hgh and hard knight, and many others.
The story continues on in different variations, usually citing some "breakthrough" in penis enlargement technology or some other bs. There are a wide variety of supplements being promoted like this, including combining testosterone boosters, hgh supplements, and some variation of male enhancement supplements.
The Bait
"Who doesn't want a bigger penis?" is usually the thought process running through most guys minds as they read this. And conveniently the blog poster provides links to the products they are talking about, which are usually "free". So here you are at a crossroads:
1. A porn star used it, so it must work
2. The supplements seem legit
It sounds like a no brainer, right? Well, here is where they get you…
The Catch
So as you decide to click through to the supplements official websites, you are again inundated with claims of a bigger penis and "permanent results". You decide to go ahead and order a bottle, but they are asking for a credit card to cover the cost of shipping, which is usually in the realm of $3-$5. Ok, you're thinking no big deal, I can afford to spend a couple of bucks, especially if it is going to get me a bigger penis.
So you willingly supply your credit card info without reading through the fine print, which is often hidden way at the bottom in ridiculously small print. You receive your bottles in the mail a few days later, and start taking them however you were instructed too, which is also a limitless number of combinations.
You Check Your Credit Card Statement A Month Later…
Here is where they get you. Remember that fine print I was talking about earlier? Well, if you didn't read it, it usually says that the first 14 days or so are free, but then at the end of the time period your credit card is charged various amounts. Sometimes it's only like $40, but most of the time it is somewhere in the order of $80, sometimes even $100!
You inquire with the companies in question, and they basically write you off as another sucker, saying you should have read the fine print and they won't give you a refund. So here you are, stuck with 2 products that you thought you were getting for free, but turned out to pay $150 for them.
How To Protect Yourself
The best way to protect yourself is to not even order their products in the first place. This free trial scamming technique has been used for years, and they (the companies) bank on the fact that you won't read the fine print, or even check your credit card statement for that matter.
Every day I get emails from guys who think I am the company that sold them the product and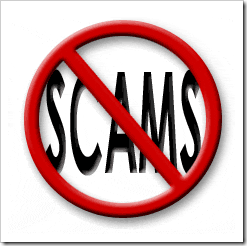 demand a refund. I get the question so often that I actually have a pre crafted message for guys like this,
here it is:
"Thanks for your email. Unfortunately, it looks like you signed up for a free trial of some product, which of course we do not sell (or recommend you sign up for in the first place). Maybe if you tell me which product you are using I can help?"
If you do get suckered into one of these free trials, I have a few suggestions:
1. Contact the company directly and cancel all future orders
Do a quick google search of the product in question and find their official website. Sometimes it will not be
indexed by google, so it may not show up in the results. Usually they will have an official site with the name of
the product, followed by .com.
Get in contact with their customer service and they will be able to help you out right away.
2. If You Can't Find Their Website
With practically all credit card merchant accounts, they have to list a contact phone number in the transaction. That combination of numbers on the transaction may look random, but it's often a phone number.
3. Contact Your Credit Card Company Directly
If you still can't get in touch with them, I suggest you call your credit card company directly and get one of their agents on the phone. They will have the actual contact number and will even connect you to them and record the conversation. I have done this numerous times.
The Bottom Line
There are legitimate products out there that will help you grow your penis size, but as far as some weird trick that porn stars use, it is likely a bs story. The only trick they are using is "tricking" you out of your hard earned money.  Protect yourself by staying away from the free trials, and stick with products that really do work. Contact me if you have any questions!
Leave Your Review of Weird Tip Porn Stars Use To Make Their Penis Bigger? Below