Male Enhancement Free Trial Scams!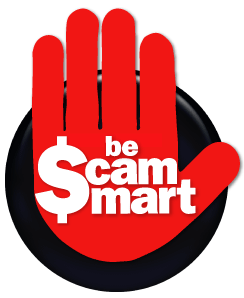 So you may have come across a couple of male enhancement free trials while browsing through the internet. Most of these products give you some sort of grace period, like 2 weeks or so, to try their product out.
What they don't tell you is that once your'e "free trial" period is up, they hit you with a $79 per month billing structure that makes it nearly impossible to cancel!
So How Exactly Does It Work?
So your browsing through an "adult film site", going about your normal business, and being inundated with dozens, if not hundreds of ads. Most of them you don't pay any attention to, but then one of the hits you. It says something to the effect of "One Weird Trick To Get Big". Here is an example below: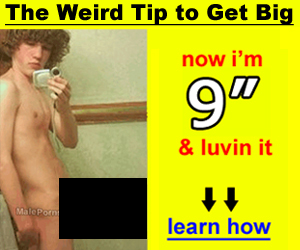 Look familiar?  We thought so, and I have seen dozens of variations of the same exact ad all over the web. So, out of sheer curiosity of course, you click on the ad and you are brought to a page that goes along the lines of, "I know a porn star and he told me that he took these two products to gain 4 inches in 4 weeks." You will find dozens of combinations being touted throughout these sites, including nitropumpxl and magnum plus, ripped muscle x and core cutter plus, and a wide variety of others.
What Happens Next?
Well, out of sheer curiosity, and the fact that it only costs like $4 to order the trial, you decide "what the hell, who couldn't use a bigger penis?', and decide to order both. You generally get them in the mail about 5 – 9 days later (depending on where you live), and start taking them exactly how your supposed to. You realize, after about 2 weeks of taking it, that your not getting the results you expected, and decide to either stop taking them, or simply throw the bottles away.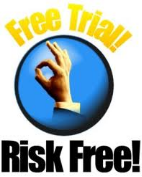 Then, when you check your credit card statement a month or two later, you notice (or your wife notices) that you have a couple of unknown charges. They are usually for about $60 – $90, and there will be 2 of them.  Wondering what these charges are, you call your bank to investigate.
Only then do you learn that that supposed free trial that you entered into was just that, a "trial". Alot of guys assume that this trial is really a "sample" and that they are under no obligation to purchase anything.  But, if you read in the fine print, you will see clearly that the supposed "free trials" expire after 14 days of ordering, and then they start billing you a specified amount. To top it all off, they start sending you the products every month too, charging you the same price over and over.
I have had several guys email me and ask me to stop the charges, as if I was the guy that actually suckered them into this. I explain to them that I don't sell that stuff, and go through the process of finding the cancellation number for them.
How Do They Get away With It?!
For a very short period back in early 2009, there were so many scams involving "Free Trials" and "forced continuity" programs, that the Credit Card Issuers were declining merchant accounts to various companies.
The FTC (Federal Trade Commission) decided to step in and lay some of the ground rules you see today. The said, in short, that all products offering a "free trial" or sample, must CLEARLY disclose their billing terms and conditions up front.
Well, many male enhancement companies, at least the ones that didn't go out of business, kept up with there end of the bargain, and made the terms and conditions clear. BUT, what's "CLEAR" and what's "UNCLEAR" is a subject for debate, and thousands of men across the country still get sucked into these scams.
What Can I do To Protect Myself?
There are a few guidelines you should follow before buying any male enhancement free trial. Follow these simple tips to avoid getting scammed.
1.) Make sure To Clearly Understand Their Billing Practices.
Generally speaking, you will find the "Terms and Conditions" of your order on the checkout page. Be sure to read and understand this before you click the checkout button. I would be wary of ANY COMPANY that says they will charge you on a recurring basis, and consider simply buying a bottle instead.
2.) See when the expiration date of the trial is.

This is a BIG ONE. Make sure you understand when the trial period is up, MARK IT ON YOUR CALENDAR, IPHONE, IPAD, WHEREVER!
3.) Write down the phone number you need to cancel.
This goes with the tip above, because many times the customer support number for these scams is hidden on their site somewhere. They WILL PROVIDE you with the number you need to call when you want to cancel, so make sure you write it down!
But, We Recommend Staying Away From FREE Trials!
There is nothing more annoying than being charged for something that you either don't want anymore, or even worse, doesn't work. We highly recommend that you stay away from ordering a free trial of any male enhancement product.
The simple fact is that the companies that sell free trial products are out to get your money and nothing else. Caveat Emptor!
Leave Your Review of Free Trial Scams Below!