Editor Rating

Rated 2.5 stars

OK
---
Xtra Man

Reviewed by:

Published on:

Last modified:
---
It's been quite a long time since I've done a review, and I apologize for that.  Life just seemed to have get in the way for the last 6 months or so, but now that I've found some time for R and R I decided to start digging through my inbox for review requests.
One email that caught my eye was from early last week, and the gentlemen who sent it was asking about a specific cream called Xtra Man.
If you've been to my site, there's good (but rather small) chance that you've seen one of my male enhancement cream reviews.
I've tested Vivaxa, Maxoderm Instant, and Vigrx Oil, to name just a few.
Personally speaking, I've never been a big fan of male enhancement creams.
Sure, they work GREAT as a lubricant for doing manual penis enlargement exercises like Jelqing, Wet milking, and even PC muscle exercises.
But in almost ALL cases there is no significant increase in size, if at all.
But, what intrigued me most about Xtra Man was the sheer lack of information on this product.
Let's dig in and I'll fill you in on what I found out.
What is Xtra Man Cream?
According to several 3rd party sources, Xtra Man is a cream that's designed to help improve erection quality, control, and duration.
I've also seen some claims that it can cause permanent penis enlargement, but that's not verified by the official website because there isn't one.
That's right, this product that gets SO many people searching and asking about it, doesn't even have a website.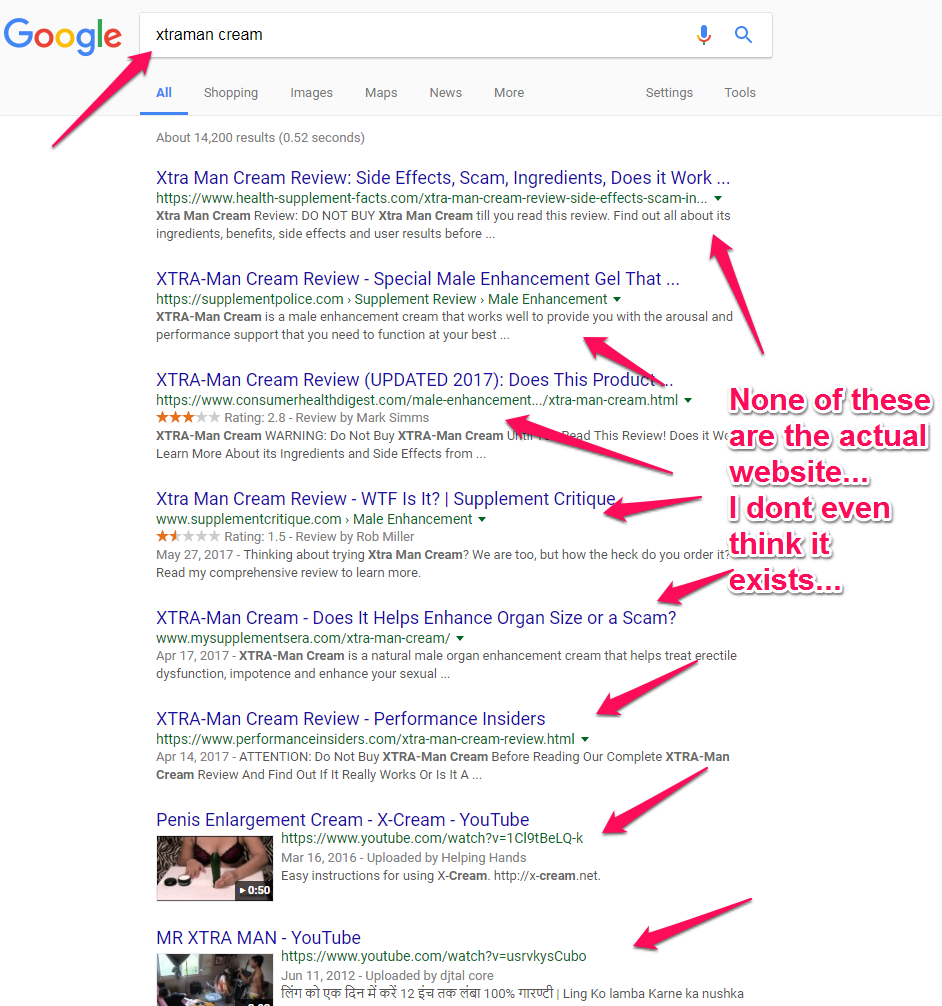 What's interesting to note is that there's a HUGE amount of search interest coming from India.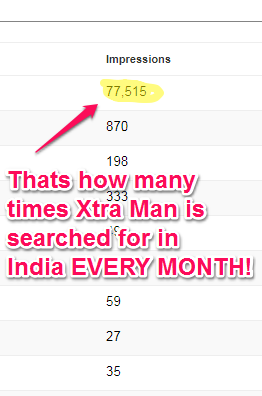 In fact, it accounts for about 80% of all searches related to Xtraman cream.
As a result, my "guess" is that Xtraman may be heavily advertised in traditional off-line media sources, such as magazines, newspapers, or maybe even mailers.
So what's in this miracle cream?
Since there's no official website for Xtraman cream, we turned to some of the usual sources like Amazon, eBay, and Google shopping to find out what the ingredients are.
Again, we came up short.
There isn't one website that specifically mentions EXACTLY what the ingredients are.
In fact, one website that will go unnamed here actually states that "there are no harmful ingredients in the formula", without even mentioning what the Xtraman ingredients are!
How the F#$K would you know if there aren't any harmful ingredients that may cause side effects?
Speaking Of Side Effects
Typically male enhancement creams, oils, and gels like this tend to include ingredients like L-Arginine, Butea Superba, Gingko Biloba, and the like.
In some cases, they also contain an ingredient called Lidocaine, which is a topical anesthetic which is commonly used in surgical dental procedures (cavities, root canals, etc.).
In it's use as a male enhancement cream, lidocaine causes a numbing sensation in the penis, which helps to treat premature ejaculation symptoms.
One VERY common side effect associated with lidocaine use is that sometimes it works TOO WELL.
Meaning, it can numb your penis to the point where you feel practically nothing.
Not good.
Another common ingredient used in ointments and gels like this is butea superba.
Butea Superba is a natural extract that helps with sexual performance problems.
Traditionally, it's consumed as a pill or capsule, but there have been some rare instances of it being injected into a male enhancement oil, including the possibility that it's contained in XtraMan.
The unfortunate aspect of Butea Superba is, although it's been around for about 500 years, there's been VERY limited research on it.
So that's to say, there's a REALLY good chance it may produce side effects.
Is that the case with Xtra Man?
Again, we don't know.
Recommendation
Personally speaking, when it comes to male enhancement products, pills, patches, creams, or oils, I won't TOUCH it if I don't know what the ingredients are.
It's just common sense.
I mean, why would you swallow something that you have no idea what's in it?
On the above note, if any of you guys reading this has a bottle of Xtra Man I would LOVE it if you could send me a photo of the front and back of it so I can update this review.  I would REALLY appreciate it, and I could even send you some free samples if you're interested as compensation for your time.
Just email me at info at bestenhancementreviews.com and attach it.
I also am not a big fan of supplements that are selling stuff and don't even have a website they can refer you to answer some common questions.
Or even order the damn thing!
Couple all of this with the lack of clear information about the product by and large, and I can say with 99% certainty that you should probably take a pass on Xtra Man.
There are PLENTY of other products out there that REALLY do work, have an established customer base, and don't hide their ingredients.
Leave Your Xtra Man Review Below!