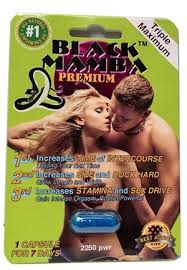 Editor Rating

Rated 2.5 stars

OK
---
Black Mamba Pills

Reviewed by:

Published on:

Last modified:
---
When we talk about sexual performance enhancing supplements, it makes sense to separate them out into two general categories: daily supplements and fast-acting, take-only-as-needed supplements. For obvious reasons, most of the guys I talk to want the ones that work quickly. They'd rather not have to remember to take a pill every day. They just want it when they want it.
Black Mamba Pills falls into this fast acting category. They claim that if you take them about 30 minutes to an hour before your planned activity, you'll experience all the benefits of better sex.
Black Mamba Pills Benefits
The marketing copy for Black Mamba Pills claims this stuff has tons of benefits you'll enjoy. Among them:
Longer lasting stamina.
Increased erections size in both length and girth.
The ability to avoid premature ejaculation.
Increased ejaculate volume.
Explosive orgams
And they claim you get all these benefits from Black Mamba Pills, the doctor-formulated, no prescription necessary pill with no harmful synthetic chemicals.
How to Use Black Mamba Pills
The recommended dose is 1 Black Mamba Pills capsule taken with a glass of water about 30 minutes before sex.
Black Mamba Pills Precautions
It's interesting that Black Mamba Pills claims to be an all natural, herbal male enhancement supplement. If you read the warnings and caution statements made by sellers of this product, you'll find some pretty scary stuff. Here's what they warn against:
Do not use more than one capsule within a 60 hour period.
Do not exceed the recommended dose.
Consult your doctor before taking Black Mamba Pills.
Consult your physician before taking this pill if you have a heart condition.
Stop using Black Mamba Pills immediately if you experience undesirable effects.
Do not take if you are pregnant, have high blood pressure, are diabetic, or have any heart condition or disease.
Do not take Black Mamba Pills if you take anything that has nitrates in it.
Consult your doctor if you are currently being treated for any medical conditions.
There's a very important reason we listed all those warnings. There's been an FDA warning issued regarding Black Mamba Pemium which is made by the same company, and what kinds of effects it may cause in certain people. Put that fact together with the warnings from the retailers, and it starts to make sense that you should probably think twice about using this stuff.
Black Mamba Pills Ingredients
The safety and effectiveness of a supplement depends on what's in its formula. For Black Mamba Pills, there are a few conflicting stories. Most of the retail websites that sell the stuff say that it contains:
Tribulus Terrestris which may increase natural testosterone levels.
L-Arginine which is a pre cursor to nitric oxide, a vasodilator that improves blood flow to the penis for better erections.
Damiana Leaf which is an herbal aphrodisiac.
Guarana which acts as a stimulant, much like caffeine.
Maca which is another herbal aphrodisiac.
Yohimbe which boosts libido and blood flow, helping you achieve better, longer lasting erections.
Vitamin C which boosts your immune system.
Vitamin B12 which increases energy without causing a crash.
Vitamin D3 for better overall health.
Zinc which is necessary for healthy testosterone levels.
FDA Warning
But according to an FDA Warning letter, issued in March of 2015 Black Mamba Premium also contain one more ingredient they're not telling us about. During a routine lab analysis, the FDA discovered that Black Mamba Premium contains Sildenafil, the active ingredient in Viagra. The problem is Sildenafil requires a prescription because in some cases, for some patients, it can be very dangerous.
The presence of Sildenafil would explain those severe sounding warnings from the retailers. Nitrates don't interact in negative ways with herbal supplements. But they can be very dangerous when taken with Sildenafil. That's the main reason why Sildenafil requires a prescription. They want to make sure that you and your doctor are on the same page in terms of what's safe and what's not safe for you to take. But with the secretive inclusion of Sildenafil in Black Mamba Premium, you don't get the opportunity to discuss the potential dangers with your doctor.  In a lot of cases, Black Mamba Pills and Black Mamba Premium are interchangeable, so you would need to be cautious with both.
Where to Buy
Even after the FDA warning letter came out, you can still buy Black Mamba Pills online. There's no official website, but there are plenty of retailer websites that carry it. Prices vary widely depending on where you look. I found one website selling a single dose for $.99 and 24 doses for $16.59. But there's another site selling one dose for $6.50, with discounts for buying more at once. This is definitely a case where you'd have to shop around for the best price.
Some websites have pulled Black Mamba Pills since the FDA letter was made public. One retailer in particular posted this statement, disassociating themselves with the product:
There is a FDA Public Notification about this product. We will no longer carry this product. We recommend you find alternatives to this product and stop buying this product. We are not the manufacturer but only a retailer of this product.
Black Mamba Pills Reviews
It took a little digging, but we found several reviews where customers say maybe it helped with erections, but the side effects were just insane and totally not worth it. Some examples:
Tom says: "I just took one about two hours ago for the first time and I got so dizzy and disoriented and now I'm seeing lights and have a headache. Not to mention I'm gassy and going to the bathroom. "
Josh says: "This product was worthless. I have had a massive headache ever since i took it last night at 10. I have been seeing everything as if wearing blue tented sunglasses for the last 3 hours. The only thing it has done is keep me feeling like i have a massive hangover."
Anonymous says: "Took it today. Took over3 hrs to kick in. Gave me a bad headache serious flashing blue lights, and only a slight erection. "
Black Mamba Pills Positives
It works for some people.
Black Mamba Pills Negatives
It contains undisclosed ingredients that can be dangerous for certain people to take. The fact that this ingredient was not revealed by the manufacturer and had to be uncovered by the FDA makes it clear that this product cannot be trusted.
Recommendation
If you need Viagra, discuss it with your doctor. He'll be able to determine whether or not it's right and safe for you. One of the biggest problems with going with something like Black Mamba Pills is that you don't have any idea how much Sildenafil is in it. So not only are they hiding the fact that it's there at all, but once you do know, you still don't know the dose. It's best to just stay away from supplements like Black Mamba Pills.