Deferol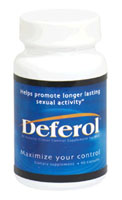 A high percentage of males suffer from premature ejaculation. Coincidentally, a high percentage of males suffering from premature ejaculation also struggle to sustain a healthy relationship. Men everywhere have been seeking the right remedy for this frustrating problem, so let's focus on Deferol – an all-natural male enhancement supplement created to help control orgasms.
The main product website is pretty straightforward. They claim that their product is "clinically proven supplement that allows men greater climax control." They advise customers to take Deferol on a daily basis before sexual activity. By doing so, they allege it will lower anxiety, reduce ejaculatory urge, and increase climax control.
Premature ejaculation is a leading cause of a lousy sex life for many men, so if everything the manufacturer states is true about the product, Deferol could conceivably be a lifesaver for guys everywhere. But are their claims legit? Let's take an in-depth look at the product to find out:
How Deferol Works
Key Ingredients
Griffonia Seed Extract
Passiflora Coerulea
Pyridoxine HCL
Pyridoxl 5-Prosphate
Vitamin B-6
What's interesting to note is that Griffonia Seed Extract is actually used to help regulate serotonin levels in the brain.  Serotonin is actually a chemical that is released in the brain that makes us feel good.  This ingredient has nothing to do with helping men solve their erection problems, at least there is no evidence to suggest that.
Consumers are advised to take 1 capsule of Deferol daily, and 1-2 additional capsules within 2 hours of having sex.  If the product works as advertised, you should feel the effects within 1-2 hours of taking it.  Daily use is alleged to increase climax control over time.
There is no doubt Deferol lacks enough potent ingredients to be certain it will function in a way its creators claim.  Most of the ingredients are common in male enhancement supplements but without L-Arginine, Epimedium (Horny Goat Weed), etc. it makes you wonder just how effective Deferol could possibly be.
Customer Reviews of Deferol
There seems to be a mixed bag on reviews for Deferol.  Let's take a look at a couple of them:
"Deferol works great and nobody gets "numbed". It is definitely worth the price. Longer lasting sex means more sex, and much more often!!!" 
"I tried Deferol for nearly 3 months to try and gain some sexual stamina and endurance. But the Deferol went too far and killed all sexual sensitivity. It made having sex impossible. I stopped taking it about two and a half weeks ago and it's still not out of my system yet. I wouldn't recommend Deferol to anyone." 
Pros
Many good reviews 
No known major side effects 
No scientific proof that it does not work for anyone 
Cons
Not enough evidence to suggest it works as advertised
Some bad reviews
Lacks high quality male enhancement ingredients
Pricing and Availability
This supplement can be found on the counters of some leading drug stores and online retailers, including Walgreen's and Amazon. It generally retails for about $25 for a one month supply, and can ship within a few days. As with most male enhancement supplements, shipping is often discreet.
Overall Conclusion
Deferol has enough positive reviews from consumers to assume this product is at least effective for some, but this may not be the case for everyone.  Overall, it is a product worth trying if other supplements have failed you, but this should not be your first option.  Premature ejaculation is frustrating to many males, so finding the right supplement is important.
Overall Rating (1-10):  6
Reason For Rating:   Enough positive reviews to give it a decent score, but it seems to be effective only for certain males.
Click Here To See Our Top Choices For Male Enhancement
Leave Your Review of Deferol Below