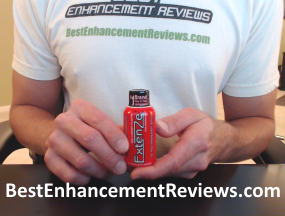 Editor Rating

Rated 3.5 stars

Very Good
---
Extenze Liquid

Reviewed by:

Published on:

Last modified:
---
Extenze has long been one of the most recognizable names in male enhancement supplements. Most likely, it's because it's available in stores like Walmart and CVS. You have to go out of your way to look for online-only supplements. But if you're strolling through the drug store picking up condoms, chances are you'll see several different version of Extenze displayed in the same aisle.
Extenze Liquid is one of those versions. It's a little different than the rest. People are calling it an energy shot for a couple of reasons. It's packaged just like an energy shot you'd find on a convenience store checkout counter, and it does actually contain energy ingredients, in addition to the male enhancement stuff.
How Extenze Liquid Works
It kind of makes sense if you think about it. You've had a long day at work. You came home and had to mow the lawn, or clean the garage, or hit the gym, or watch the kids. But you and your lady had planned on getting hot and heavy tonight. You're beat, but you don't want to disappoint. Pop a bottle of Extenze Liquid – problem solved.
With a combination of stimulants, aphrodisiacs, and blood flow enhancers, Extenze Liquid gets you going and ready in every way you need to be.
Extenze Liquid Ingredients
The Extenze Liquid formula is similar to the one used in Extenze tablets, though not entirely the same. It includes:
L-Arginine which is one of the most commonly used male enhancement ingredients we know. It's a precursor to nitric oxide, meaning it can increase NO production. More NO means better blood flow throughout your body due to relaxed blood vessel walls. Much of this increased blood flow enters the penis during arousal to fuel bigger, harder erections.
Gamma Aminobutyric Acid (aka GABA) which can help you relax and minimize stress.
Betaine which may also help with Nitric Oxide production for better erections.
L-Theanine which helps you relax and minimizes the potential for negative side effects (jitters) from caffeine.
Caffeine to provide that energy boost you're used to in your energy drinks.
Yohimbe which is a stimulant that also works as an aphrodisiac and an enhancer of blood flow. Yohimbe can be a great ingredient for a lot of guys. It's one of the most effective natural erection enhancers there is. The problem is it can also cause side effects, sometimes dangerous. A lot of people get jitters, elevated heart rates, and anxiety from taking it. Some people (especially those taking certain prescription medications) experience dangerous side effects, such as a severe drop in blood pressure. When taking Yohimbe for the first time, it's a good idea to start off with a very low dose so you can minimize any negative effects if you're susceptible.
Panax Ginseng Root which is a combination blood flow enhancer/aphrodisiac, so it's perfect as an ingredient in a male enhancement supplement.
Rhodiola Rosea Root which fights against fatigue in stressful situations.
Maca Root which is a powerful herbal aphrodisiac to get your juices flowing.
Horny Goat Weed (Epimedium) which acts as both an aphrodisiac and a blood flow enhancer so you've got more desire and a harder penis.
Niacin which improves blood flow. You'll know it's working when you feel that "niacin flush" caused by blood rushing toward your skin, increasing sensitivity.
Zinc which is essential for the normal production of testosterone in the male body.
Here's a photo of the label: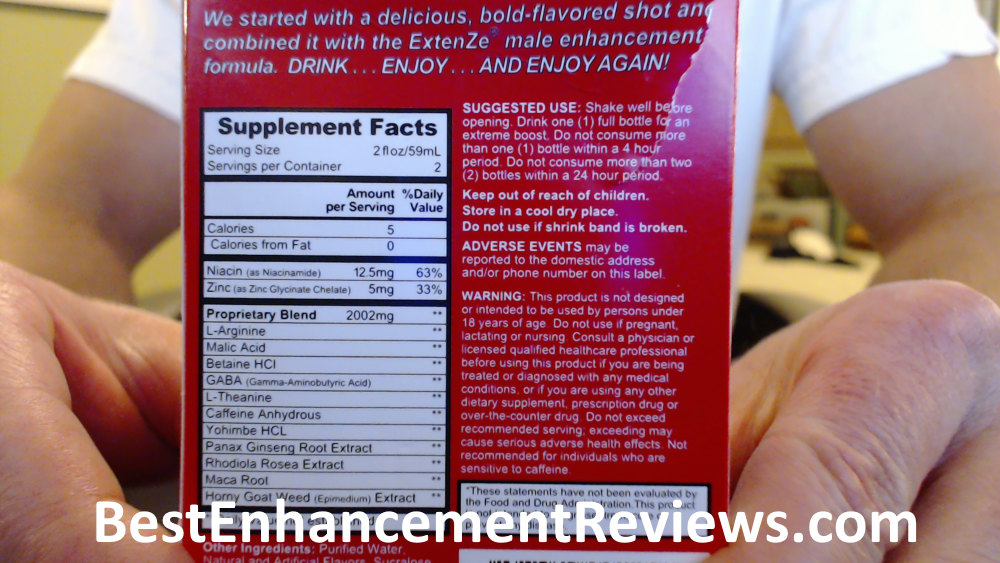 Frequently Asked Questions I Get
How do I take Extenze Liquid Shots?
Extenze Liquid is just like any other energy shot. You'll want to drink it about 15-30 minutes before you plan to be needing that extra energy. The effects are said to last 4-6 hours.
How Does It Taste?
Extenze Liquid comes in one flavor, and that's Cherry. From what I hear, and what I ultimately learned when I tried it out myself, it's pretty bad.
To give you an idea,one guy described is as "melted Jolly Ranchers and maple syrup," and very overpowering. But it's just a 2 ounce shot so chase it with water and you're good to go.
Can I take it at the same time I take the Extenze gelcaps?
In theory you could, but it's not a great idea.  They both contain yohimbe, so you run the risk of overdosing on it if you take both at the same time.
If you happen to have both products, then I would recommend taking the Extenze Gelcaps (www.BuyExtenze.com) on a daily basis for improved erections, BUT just take the Extenze Shot on days you do not take the gelcaps.
My Personal Results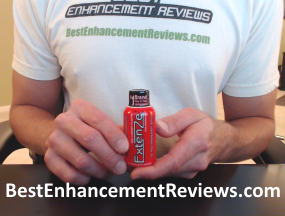 I finally got a chance to try out Extenze Liquid, and I have to say my feelings are quite mixed on this one.  As far as the taste, I agree with the sentiment posted by many others.
It's not very good.
With that said, who cares about the taste if it gives you good results, right?
Well, for me, it actually DID work quite well.  In fact, it worked so well that it was probably the fastest time I've ever gotten a boner after taking ANY male enhancement supplement.
I would say realistically I started to feel the effects in just a few minutes.
Not only did it give me a boner, but it seemed to help me last a LOT longer.
The only downside (and this is a big one), were the side effects.
It contains a TON of stimulants, including caffeine and yohimbe, which left me with a VERY jittery feeling.
Mind you, this was after drinking the whole bottle, something you should refrain from doing the first time around.
I would DEFINITELY recommend you don't take this late in the day, as it seemed to cause a bit of insomnia for me.
Extenze Liquid Reviews
The Extenze brand enjoys very wide name recognition when compared to most male enhancement supplements. But the word is not even close to all positive. Some guys swear by it. Some just don't. In fact, a while back, the makers of Extenze were named in a class action lawsuit for claiming that their products could make your penis bigger. The lawsuit is behind them now, and they mostly claim performance enhancement, but still there are guys that are not fans.
In reference to Extenze Liquid specifically, here's what some guys had to say:
"Tried it and it had the opposite effect on me. It made me limper than a noodle. I couldn't get it back up until the effects wore off. I don't know, maybe I'm just the 1 in 1,000,000 person where this stuff doesn't work. This is supposed to be maximum strength and fast acting due to the liquid form so I won't bother with the the original formula. Oh well, time to experiment with other products."
"If it was possible to get no stars at all, this product would receive it. My boyfriend took it thinking it would add some even more excitement to our sex life and it did the exact opposite. He couldn't get it up for three days. Talk about being sexually frustrated I should sue for emotional trauma "
"Did not work at all did the opposite no good will not try again."
The running theme there seems to be that it actually has the opposite effect. Instead of helping you get better erections, it prevents you from getting them at all. I'm not sure how it does that, but that's what more than one reviewer is claiming.
Extenze Liquid Benefits
The ingredients are all natural.
It comes in a liquid form, which is good for anyone who doesn't like to take pills.
It includes caffeine and other substances to increase energy.
It's widely available in stores.
You don't have to take it every day, just when you need it.
Extenze Liquid Drawbacks
According to what we've heard, the taste is awful – too strong and syrupy. You'll definitely want a chaser.
Also according to customer feedback we've seen, Extenze Liquid doesn't work. There's really almost no one singing this stuff's praises.
The Yohimbe in the formula could be problematic for some users.
None of the ingredient amounts are listed, as it's all in a proprietary blend. That means we don't know how much caffeine and yohimbe are in the formula, both of which would be important for some users to know.
Where to Buy Extenze Liquid
Extenze Liquid is available online through lots of different sellers. You can also find it in stores like Walmart, Walgreen's, and CVS. The one place that doesn't seem to sell Extenze Liquid is Amazon. It tends to come in a 2-pack, and we've seen prices range from $5 – $10.
Recommendation
If you're someone who likes to fall back on brand name recognition, then by all means five Extenze Liquid a try. I personally think that the Extenze gelcaps work MUCH better than this shot does.  It doesn't come on as strong, and for me, seemed to last a bit longer without all of the adverse effects.
I'm a bit torn on my recommendation.
Going over all of the reviews of Extenze Liquid shots on Walmart and Walgreens, the reviews are literally split down the middle.
One half loved it, the other half hated it.
After personally testing it, I can conclude that (at least for me) it REALLY does work.  However, that came with a price (the side effects I mentioned).
At $8 a bottle, it's inexpensive enough to give it a try, and you really don't have that much to lose.
Have You Used Extenze Liquid Shots?  Leave Your Review Below!
Looking For A Bigger Penis?

Click Here To See My Top Choice