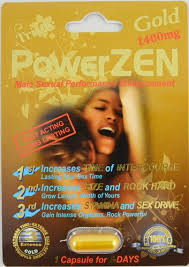 Editor Rating

Rated 3 stars

Good
---
Powerzen Gold

Reviewed by:

Published on:

Last modified:
---
Powerzen Gold has been around for more than a decade. I'm not sure how we missed it until now. It's actually been on my radar several times before, but for some reason, I never got around to taking a good look. Better late than never, as they say. Now that I have had a chance, here's what I found.
Powerzen Gold is a take-as-needed male enhancement supplement, meaning you don't have to take it every day. You just take it in anticipation of an upcoming sexual event. One of its biggest advantages is that you can buy it in stores (gas stations and convenience stores) as well as online. Some guys just don't like shopping online, or don't want to use a credit card. So Powerzen Gold can be an option for more customers than an online only product.
Benefits of Powerzen Gold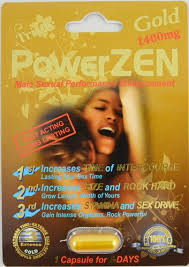 The manufacturer of Powerzen Gold claims the effects of one pill will last as long as 5 days, and the effects they're talking about include:
Rock hard erections almost at will.
Greater stamina.
Prevention of premature ejaculation.
Increased erection length and girth.
Greater ejaculate volume for more intense orgasms
And all these benefits bring you to a place of supreme sexual confidence.
How Powerzen Gold Works
The recommended dose is 1 capsule taken with water about 30 minutes before having sex. And you're strongly advised not to take another dose wihtin 60 hours (two and a half days). The ingredients in Powerzen Gold go to work immediately, boosting your libido, increasing the blood flowing into your penis, and building your strength and stamina.
Powerzen Gold Ingredients
The Powerzen Gold website is not shy about listing all the natural ingredients that make up its proprietary blend. This list includes Tribulus Terrestris, Lycopene, L-Arginine, Damiana Leaf, Guarana, Yohimbe Bark, Maca Root, Vitamin B-12, Vitamin C, Vitamin D3, and Zinc.
Yohimbe Bark is the primary ingredient in focus. It's a central nervous system stimulant that also increases the flow of blood to the penis for those rock hard erections. It even has some aphrodisiac qualities to increase your libido, making you ready for sex anytime.
The problem with Yohimbe is that while plenty of people are fine with it, some people can have a bad reaction, especially at high doses. It can cause a racing heartbeat, dizziness, nausea, and even dangerous changes in blood pressure. This is especially true for users in poor health or taking certain medications. The upshot is that Yohimbe is very effective, but it can be dangerous as well.
Other key ingredients include:
L-Arginine which as a pre cursor to nitric oxide increases blood flow to the penis.
Maca and Damiana which are both powerful herbal aphrodisiacs.
Tribulus Terrestris which is thought to increase natural testosterone. (The science doesn't support this theory, but it is known to increase sexual activit).
Zinc which has a positive correlation with testosterone levels. Increased zinc corresponds with increased testosterone.
FDA Warning
There's one ingredient in Powerzen Gold that they are not so forthcoming about. In December of 2014, the FDA published a notification that Powerzen Gold contains a hidden ingredient.That hidden ingredient is Sildenafil, the active compound in Viagra.
In order to use Sildenafil, you need a prescription from your doctor, and there's a very specific reason for this. When taken with certain conditions, or combined with certain medications, Sildenafil can be extremely dangerous, to the point of death. The primary issue is that you cannot take Sildenafil with anything containing nitrates, which are prescribed for several conditions of the heart and blood pressure.
It's actually an all too common occurrence that fast acting "herbal" male enhacements secretly contain Sildenafil. They do it to compete. Most herbal ingredients take a while to build up in your system before they're effective. So to make a product fast acting, they cheat.
Powerzen Gold Side Effects
Side effects with Powerzen Gold come mainly from 2 ingredients. Yohimbe, while natural, can cause the side effects we mentioned above. It can make you dizzy, it can give you a rapid heartbeat, and it can cause dangerous changes in blood pressure. The makes of Powerzen Gold assure us that the dose is low enough not to reach that level, but I'm not sure how much I trust a company that secretly injects my herbal supplement with prescription medication.
And of course the Sildenafil. Powerzen Gold won't tell you about those side effects because they don't want you to know it's even in there. So while they give you a heads up about the potential complications of the Yohimbe, they leave out the potential dangers of Sildenafil, which include heart attack and death.
Where to Buy Powerzen Gold
The FDA issued a notification to customers to beware of Powerzen Gold, but they didn't recall the product or force it off the market. As a result, it's still available. It's possible Powerzen Gold changed their formula, leaving out the Sildenafil. But we have no way of knowing because they've never acknowledged containing the stuff in the first place. So you can still pick some Powerzen Gold up at gas stations all over the country and online. The online prices vary, but hover around the $6-$10 per pill range. I'm sure gas station prices are probably higher.
Powerzen Gold and Alcohol
Powerzen Gold addresses this issue on their website. The basic idea is that a few drinks don't have a negative effect on the product functioning, but getting plastered may inhibit your sexual abilities, even when you're taking Powerzen Gold.
Powerzen Gold Upsides
You don't have to take it every day.
One dose could last up to 60 hours.
Powerzen Gold Downsides
They secretly injected a potentially dangerous ingredient into the Powerzen Gold pills. While it may not be a problem for most people, it's extremely dangerous to a few. Even when it doesn't put you in actual danger, it can cause unpleasant side effects, like raging headaches and blurred or blue vision. If you knew you were taking Viagra, that's one thing. But to be blindsided by it is something else altogether.
It's expensive.
Recommendation
If you want to use an herbal male enhancement pill, go with something daily. The natural ingredients build up in your system, and you'll see the benefits. If you choose to use Powerzen Gold, you may as well choose Viagra. That way, you and your doctor can discuss the benefits and potential dangers and drawbacks before it's too late.