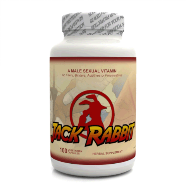 Editor Rating

Rated 2 stars

Poor
---
Jack Rabbit Pills

Reviewed by:

Published on:

Last modified:
---
Jack Rabbit
With so many male herbal supplements, formulations, pill and patches available in the market, what is really lacking is "specificity". As almost every other supplement or pill claims that it can be used for "all purposes", at times, we do really a specific supplement that will mainly target and treat the key issue and not just everything.
For example, a person suffering from premature ejaculation may not need a libido booster at all. Similarly, a man who has libido
problems may not necessarily need to extend his penis. The following article is intended to highlight and discuss one of such male enhancement products that is considered "specific" for libido enhancement in males. Read on to discover more.
What is Jack Rabbit?
Jack Rabbit is a specific male sexual enhancement supplement for oral use that comes in the form of pills and is specifically regarded as a powerful and potent "aphrodisiac" i.e. it is used to boost and enhance sexual desire or libido in males.
Reviews, endorsements or testimonials on the product
When it comes to the reviews or testimonials, we could not find any independent or even official reviews about this product. The official website does have a separate review section but currently there are no reviews present on the page. Accordingly, it can be said that it is difficult or almost impossible to identify the claims made by the  product through independent user reviews or testimonials.
Composition / ingredients of Jack Rabbit
By nature, Jack Rabbit is considered an all-natural and botanical supplement formula and is composed of the following ingredients:
Tongkat ali
Catuaba bark
Muira puama
Yohimbe
Vidari kanda
Shwagandha
Sarsaparilla
Licorice
Ginger
Cinnamon
Capsicum
Shatawari
Korean red ginseng
Chinese ginseng
Saw palmetto berry
Pippali
Kapikacchu seed
Dodder seed
Maca root
How does Jack Rabbit work (Mode of action)?
The official website does not contain any information on how Jack Rabbit formula may work. However, because of the multiplicity of its ingredients, it can be said that this product works in multiple ways i.e. by increasing blood flow to the penis, by increasing the release of testosterone hormone and by acting as a strong aphrodisiac on the sexual center of your brain.
Jack Rabbit is for you if:
You want to use an all-natural and herbal enhancement pill to improve your sexual desire
You are specifically looking for a libido-boosting or desire-enhancing pill
You are looking for a product that contains a variety of herbal ingredients (the product has more than 30 vegetative ingredients
Jack Rabbit is not for you if:
You want to use this supplement for "premature ejaculation, enlargement or any other purposes"
You will only use a product with a highly convenient dosage (such as one or two pills a day)
You are looking for an all-in-one formula that will also address other male enhancement related issues as well
Pros of Jack Rabbit
The product comes from a  California-based herbal supplement company known as Jack Rabbit Herbs
The product is suitable for all adult males, regardless of their age or ethnicity
No side effects or safety concerns have been noticed or reported so far
The product also claims that it can improve blood circulation of other male genital organs such as prostate and testes.
The product is relatively cheaper as compared to other products of similar nature ($39.95 for a bottle of 100 capsules)
Cons of Jack Rabbit
The product dosage is not convenient at all as the recommended dosage is from 3 capsules to up to 6 to 9 capsules before activity
There are no scientific studies or trials to support the official claims
The product offers NO Moneyback guarantee for opened bottles (and even for unopened bottles, it is just 15-day warranty)
UPDATE:  Jack Rabbit Contains Illegal Ingredients
According to the Miami Herald, a sting operation that was conducted in 2016 revealed that Jack Rabbit contains an illegal ingredient called Sildenafil.
If you weren't already aware, Sildenafil is the active ingredient in Viagra.
This is, of course, not only illegal but also highly unethical.
Our recommendation
All in all, Jack Rabbit can not be recommended as an ideal male enhancement supplement. Because of the lack of clear Moneyback guarantee, there is, indeed, some financial risk involved. Also, according to the official information, it may only work the best as an "aphrodisiac" and will not do much about permanent enlargement or erectile dysfunction issues. It is, therefore, best to use a safe and time-tested product that will not only address the libido issues but will also help treat other important sexual problems such as impotency and premature ejaculation as well.
Leave Your Review of Jack Rabbit Below!
Looking For A Bigger Penis?

Click Here To See My Top Choice