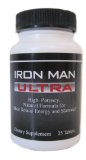 Let's just open this review by admitting up front that we won't be recommending the Iron Man Ultra product. This is because the manufacturer makes all kinds of claims, but offers zero information about the compound itself. We found a lot of hype about "rock hard erections" and a high quality sexual experience every time, but that was about it! So, we did an investigation of the product, looked for customer complaints or comments, and checked out the price per dose to make our decision.
Product Facts
The Iron Man Ultra claims to use "pharmaceutical grade ingredients," but a consumer must know what these are. Reading the descriptions of the product we saw that it offers improved sexual stamina and increased blood flow. This, we can only assume, means that it probably puts one of the popular NO enhancers to work. For instance, many bodybuilding formulas like power pump rely on a few kinds of Arginine. This is because these natural ingredients trigger the body to pump out nitric oxide (NO) to work as vasodilators.
If you want an illustration of how these work just consider some of the bulkiest and most bulging bodybuilders that you know…these guys look like their veins are bursting and as if they are engorged with blood. This is vasodilation and it allows the blood vessels to safely receive a lot more blood and oxygen than normal. When this sort of stuff happens in the penis it makes it increase in size and also allows the man to enjoy a heightened sense of pleasure. We can assume that Iron Man Ultra uses this sort of technology, but it is ONLY AN ASSUMPTION because the manufacturer fails to reveal even a single ingredient.  There are tons of supplement companies that pitch their product without even mentioning a single ingredient, most notably mega magnum.
What Men Are Saying About Iron Man Ultra
We did find customer feedback, but this too left things very unclear. While one person said it worked far better than prescription stuff, another said it did not give them any substantial difference in the quality of their erections, sex drive or orgasms. Some even said that the Iron Man Ultra was a waste of their money and that the marketing language was pure fiction.
So, we didn't get much useful advice from the consumers who did take the risk and invest in a bottle of the product. Something that did create a bit of a "red flag" with us was the simple statement to "discuss with your doctor first" as part of the instructions. Coupled with the absence of a money back guarantee we did not feel that this product was safe, smart, or realistic.  This particular product is comparable both in size and price with maca man, a once a day supplement found in major foodstores.
Where To Buy It
Buying the Iron Man Ultra product is also a leap of faith because the marketing does not explain how many pills are contained in each bottle. Instead, the consumer is sold "two bottles" and told to take two to three of the tablets before engaging in sexual intercourse.  The prices ranged between the standard retail value of $40 to the Amazon.com price of $12.99 for two bottles.
Our Recommendation
We do not recommend this Iron Man Ultra product. Its claims have no clinical backing and no realistic qualities. There is no list of ingredients provided, no quality assurances, and no way to get your money back if the product is not satisfactory. We know that there are a lot of people looking for a quick fix for an ED (erectile dysfunction) issue, and that a product that uses such bold and assertive language in its marketing (as this one does) can be convincing, but we'd say that you would be far better off doing a bit more searching. There are hundreds of supplements on the market like expanzite and m drive which use effective ingredients that can give you great sexual enjoyment.  This is just something that cannot be advocated because it doesn't supply even the most basic consumer information.
Leave Your Review of Iron Man Ultra Pills Below!